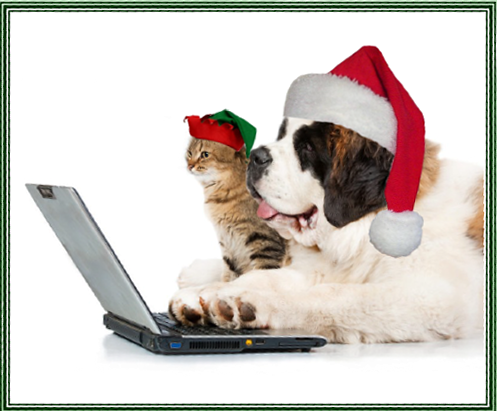 Friday November 17 to Thursday December 14, 2017 at 8 pm
Just in time for the holidays, get ready to place your bids in the OMHS Online Holiday Auction to help animals. Visit the Online website while the event is open for your chance to bid on great gifts and services. Bidding starts Friday November 17, 2017
What Am I Supporting?
The Oakville & Milton Humane Society is a registered charity (#11906 4350 RR0001) that relies on income raised, including donations received through our fundraising events. As such, your support of our Online Auction is extremely meaningful. Proceeds generated will help the animals that desperately need food, shelter and veterinary care.
For more information please contact the
OMHS Fund Development Department
905-845-1551 or onlineauction@omhs.ca
Every gift is important — every dollar helps.
A big Paws Up! to the following donors who have provided items for the auction.
Art
Diane Marcotte, Artist www.dianemarcotte.com
Pebbles and More www.facebook.com/pebblesandmore
Clea's Gallery, Oakville www.cleasgallery.com
Lorna Cole, Artist
Christel Scot,t Artist www.waycooloakville.com
Katie Land ,Artist
Fashion
V.O.C, Oakville www.shopvoc.com
Peggy's Fashions , Milton www.peggysfashions.ca
Born 2 Shop ,Oakville www.born2shop.ca
My Girlfriend's Closet , Oakville
www.mygirlfriendsclosetburlington
Electronics
Expert Island, Oakville www.expertisland.com
Pets
Ren's Pets Depot www.renspets.com
Just Paws Dog Walking, Milton www.justpaws.ca
Mutt Life, Milton www.muttlife.ca
Poop Patrol, GTA www.poop-patrol.com
Bark and Fitz www.Barkandfitz.com
The Dog's Inn, Milton www.thedogsinn.com
Food & Drink
Mama Earth Oragnics, GTA www.mamaearth.ca
Yolanda's Sputino Casa, Oakville www.yolandasspuntinocasa.com
EddieO's Pour House Kitchen , Milton www.eddieos.com
The Keg www.kegsteakhouse.com
Toppers Pizza, Oakville www.toppers.ca
Taste of Colombia, Oakville www.tasteofcolombia.wordpress.com
Longo's , GTA www.longos.com
Olivo Fresco , Oakville www.olivofresco.com
Mad Hatter Tea Co, Oakville www.madhattertea.co
Pusateri's Fine Foods, GTA www.pusateris.com
Harper's Landing, Oakville www.harperslanding.ca
Paradiso, Oakville www.paradisorestaurant.com
Catch Hospitality- Plank/ Cucci/The Fire Hall, Oakville www.catchhospitalitygroup.ca
The Olive Press, Oakville www.olivepress.ca – Courtesy of Mattamy Homes www.mattamyhomes.com
The Original 6th Line Sports Pub, Oakville www.theoriginal6linepub.com
Health & Beauty
Skin Spa By ICLS, Oakville www.icls.ca
Ooh La La, Milton www.myoohlalaboutique.com
Waxon, Oakville www.waxon.ca
Toetally Nailed, Burlington www.facebook.com/pages/Totally-Nailed
Beauty Institute , Oakville www.oakvillebeautyinstitute.com
Health, Fitness & Wellness
Power Yoga, Oakville www.poweryogacanada.com
Wellness for the Body, Massage Therapy & Healing Centre, Oakville www.wellnessforthebody.com
Happy Bloomers Kids Yoga, Oakville www.facebook.com/happybloomers
Orange Theory Fitness, Oakville www.southoakville.orangetheoryfitness.com
Ontario Racquet Club, Mississauga www.ontarioracquetclub.com
Patricia Eales Nutrition, Oakville www.patriciaeales.com
Home decor & Housewares
Swiss Interiors, Oakville www.swissinteriors.com
Soap & Water, Oakville www.soapandwatereveryday.com
Waterstone Interiors, GTA www.waterstoneinteriors.ca
Jewellery & Accessories
Avalon Fine Jewellery, Oakville www.avalonfinejewellery.com
She Is , Oakville www.sheisinoakville.com
Maska Mode, Oakville www.maskamode.com
Experiential
The Oakville Centre For The Performing Arts, Oakville www.oakvillecentre.ca
Ontario Science Centre , Toronto www.ontariosciencecentre.ca
The Toronto Zoo , Toronto www.torontozoo.com
Mysteriously Yours Dinner Theatre, Toronto www.mysteriouslyyours.ca
Art Gallery Of Ontario, Toronto www.ago.ca
Royal Ontario Museum, Toronto www.rom.on.ca
Medieval Times, Toronto www.medievaltimes.com
Champs Family Entertainment, Milton www.champsfec.com
Film.ca, Oakville www.film.ca
Jackson Triggs Estate, Niagara www.jacksontriggswinery.com
Tawse Winery, Vineland www.tawsewinery.ca
Sports
The Mississaugua Golf Club, Mississauga www.mississauguagolf.com
RattleSnake Point Golf Club, Milton www.rattlesnakepoint.clublink.ca
Granite Ridge Golf Club, Milton www.golfgranite.com
Hockey Hall of Fame, Toronto www.hhof.com
Travel
VIA Rail Canada www.viarail.ca
Holiday Inn Centre , Oakville www.ihg.com
Homewood Suites By Hilton, Oakville www.homewoodsuites.com
Le Germain Hotel , Maple Leaf Square, Toronto www.legermainhotels.com
The Cape Discovered www.thecapediscovered.co.za
Lifestyle / Hobby
Way Cool Tattoo, Oakville www.waycooloakville.com
Akasha's Den , Oakville www.akashasden.com
Patricia Eales Reiki , Oakville www.patriciaeales.com
Leash Out Photography,GTA www.leashout.com
Merriam School of Music www.merriammusic.com
Fred Astaire Dance Studios, Oakville www.fredastaire.ca
The Wool Bin, Oakville www.woolbin.com