Christmas brings us many joys. It's a time to give and to show our love for others, especially those in need, and a time for friends and family.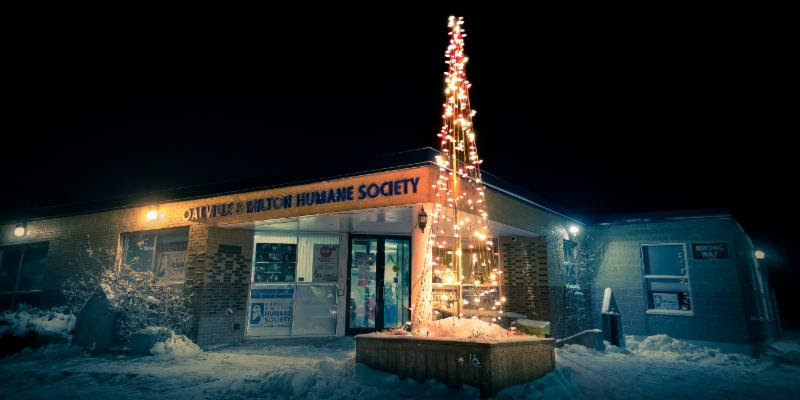 Friends and family at the 2nd Annual Tree Lighting at OMHS
Our pets are also our loved ones and family members who mean so much in our lives throughout the year. A pet is one of the greatest joys in life.
The Tree of Lights is a way to honour the special relationship we have with these amazing souls who greet us at the front door, who love to be with us, and who give back so much more than we can ever give them in unconditional love.
The lighting of the tree is how we honour these great friends and companions. The Tree of Lights is their tree and each bulb that we lit on December 15th represents a glowing heart that is very near and dear to us.
Thank you to everyone who participated in the 2nd Annual OMHS Tree Lighting. It was a special evening with
Carols by the 24th Oakville Guides
Live music by Mike and Sarah
Storytime with Noelle the Elf
Maria Bell's book signing for the Dogs of Oakville 'Big and Small'
Countdown by Oakville Deputy Mayor Tom Adams, Oakville Councillors Roger Lapworth and Nick Hutchins
Tree lighting by Santa and friends
Support by many people who braved the weather.
Thank you to Canadian Pet Connection for sponsoring the Tree Lighting, Skedaddle Humane Wildlife Control for putting up the most meaningful tree, Audioman Roger Lapworth for providing sound and making the evening come to life with music, and to Tim Horton's for the delicious hot chocolate.
Thank you to everyone who purchased a bulb(s) for their pets. There were more than 500 bulbs purchased in two weeks! The money raised will be used to help some of the most vulnerable and the most amazing animals from the Oakville & Milton Humane Society.
We hope you will visit the shelter over the holidays to see your tree.
All inquiries:
Sponsored by:
2015 Photos by Craig Bell for SNAP