We love hearing from our alumni! If you have a "Happy Tails" story you would like posted, please email us your story and photos to happytails@omhs.ca
Goose
Goose is doing really well. He is an amazing hamster – not only adorable but he has the sweetest personality!
He loves climbing around in his tubes and builds himself quite the nest (no interest in sleeping in a hut anymore). We've tried him on a number of different foods already and with the exception of carrots and grapes, he seems to like everything. He romaine lettuce, red peppers, zucchini, strawberries and cherries.
Stanley
Stanley is doing great! He is fitting in well and loves to be loved. He now has a routine of his own and has regular sleeping spots. He likes to play with Audrey and Catherine the sister cats and sometimes just spontaneously starts running around making his own fun. Stanley likes to watch me do the dishes and get into cupboards and of course, has mealtimes down to the second he lets everyone know when it is time. The dog and the cats appreciate that a lot.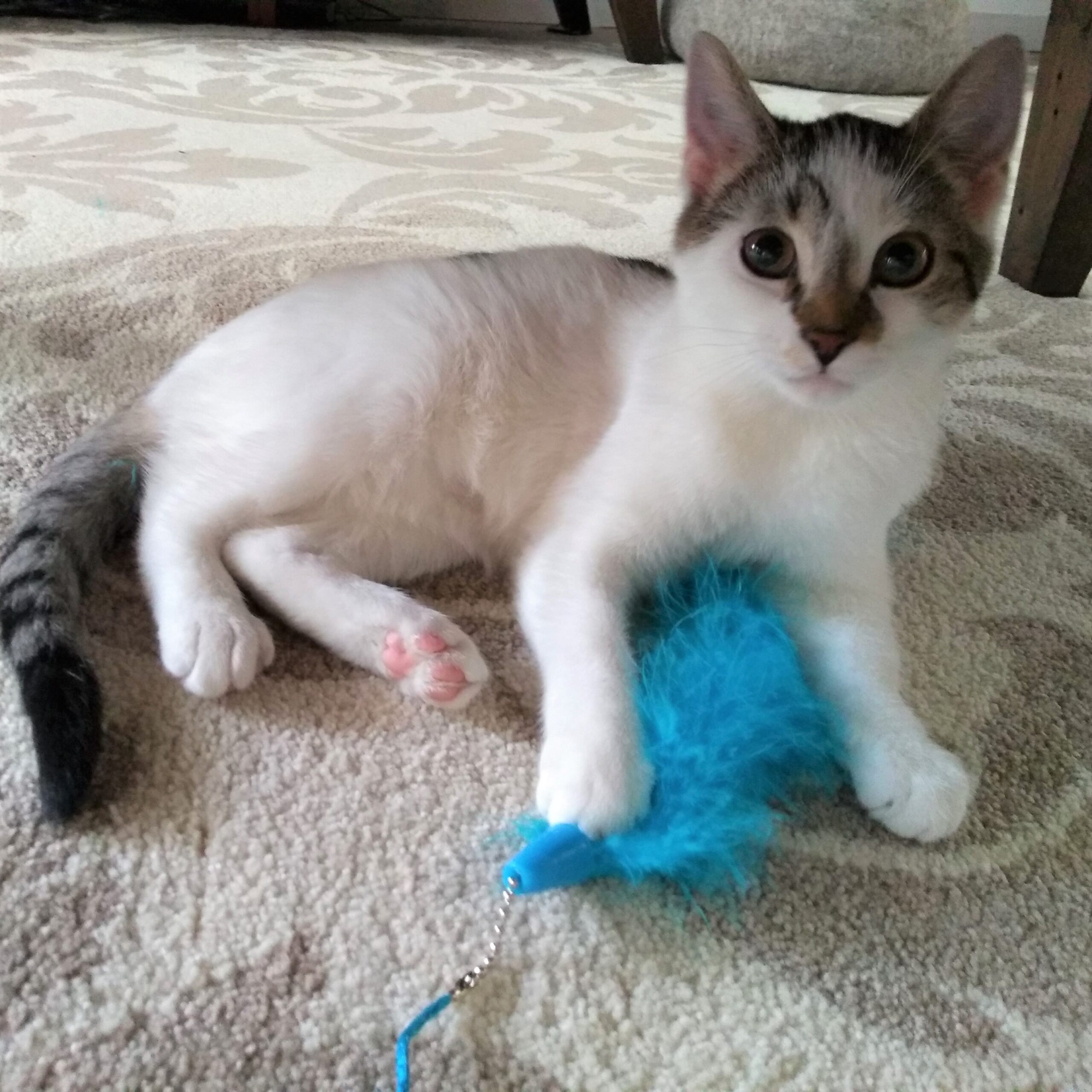 Pauly
Pauly is doing great! He was shy on the first day, but we did get him to play a bit. On the second day, he eased right in and started to explore a bit. By the third day, he was walking around like he lived here his whole life! He loves to chase the laser pointer and amuses himself with his toy mice when we get tired out. He always eats all of his food ( the food delivery arrived no problem) and then likes to snuggle on the couch and get some pets and purrs so loud, it is unbelievable. We just love him, and I think he is very happy in his new home. Thanks so much for having such a great adoption program. – Sam & Greg
Milo
Oh, my goodness, Milo is the absolute best. He is doing so well; he has become my favourite little guy. On the way home from picking him up, he did incredible. I had never been so happy in my life I started crying because of how much joy I had in my heart. He very comfortable in his new home. I am still keeping him in my room, and letting him roam a little bit each day. He has made my bed his own personal oasis. I wake up in the middle of the night and he has taken over my pillow. He is a vocal little guy, and not afraid to tell you when he wants attention. He is eating really well, and using his litter box regularly. He hasn't had any accidents, so I'm very pleased. He uses his scratching post, and is really good at not scratching at other objects. He loved to jump at my feet when I get into bed. He purrs so loudly, if you didn't know better you would think it was a little motor boat. He is the best thing that has happened, and I cannot wait to watch him grow even more. – Victoria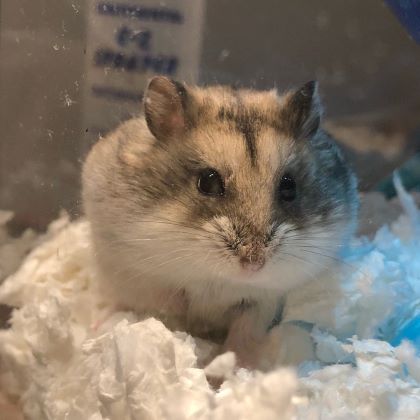 Hamburger
Hamburger is doing well! He was skittish at first but now he lets us pet him. And he eats from our hands. His favorite foods are broccoli, cauliflower and yogurt drops. He loves running on his disc and tunneling around his tank. We hope that soon he will allow us to pick him up. – Shawna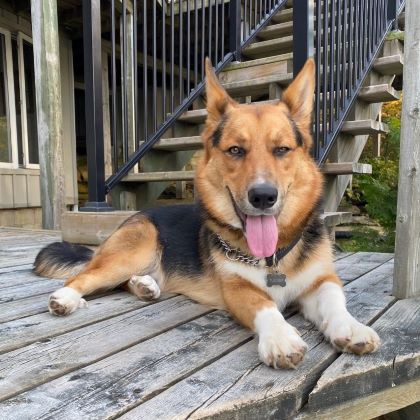 Tucker
Thank you so much for checking in! Tucker is awesome! He is a very happy good natured soul and manages to get a comment from everyone that walks past us and has not met him before. He grew into a full size dog on top (just as long and big as a lab) but his legs remained short. We think he is very handsome! – Debbie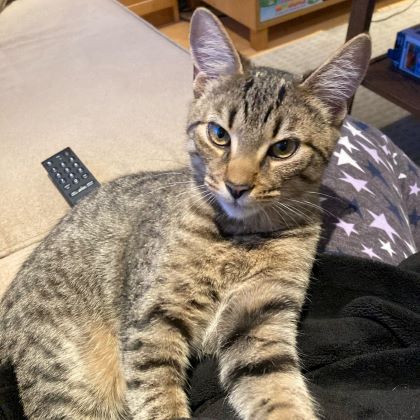 Max
Max is settling in nicely although this week has been a bit of an adventure. Friday he was on a path of destruction but Saturday he went back in cute and cuddle mode. We are working on his counter surfing issue. None of the deterrents bother him, tinfoil and sticky tape didn't phase him at all. But he settled down a bit and we ate a few meals in peace, LOL. He loves to play and have fun, but he has proven to be a huge snuggler. I am working from home and he lays on my desk in between my arms while I work. He will spend the whole day there with me. He loves to be petted all over and we clipped his nails with no problems. Now we are attempting to see how toothbrushing goes. – Sadie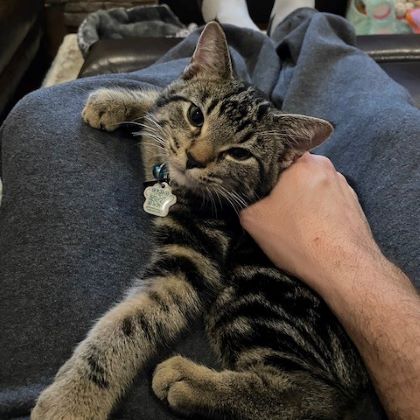 Jasper
I can't believe it's already been a week since Jasper has been home and part of our family. The first couple of days he was very nervous and mostly hid under our couch. As each day passes though he becomes more and more comfortable with my husband and I. He is still warming up to my daughter as she gets so excited when she sees him. We're trying to teach calmness and patience with her which can be difficult (haha) but they have played together and he is able to stay out longer when she's around. It will take some time but I'm sure they will be the best of friends at some point. Jasper has proven to be quite the suck and loves cuddling on our laps or near us and getting belly and chin rubs. He is such a good boy and getting quite accustomed to his new home! – Laura
Frederico (aka Freddy)
We LOVE Freddy. He's awesome! His favourite time to sing his heart out is every single time I'm in a Zoom meeting (its hilarious). Bath time is a disaster – all his papers have to be changed but he has such a good time and I don't mind. He jumps right in and throws the water from one of his cage to the other. He got in an argument with the mirror bird (his reflection) the other day so we had to take it away for a while, but they have since made up. Everything couldn't be better. He fit right in and made himself at home. He's already a part of our family. Thank you for everything. – Sarah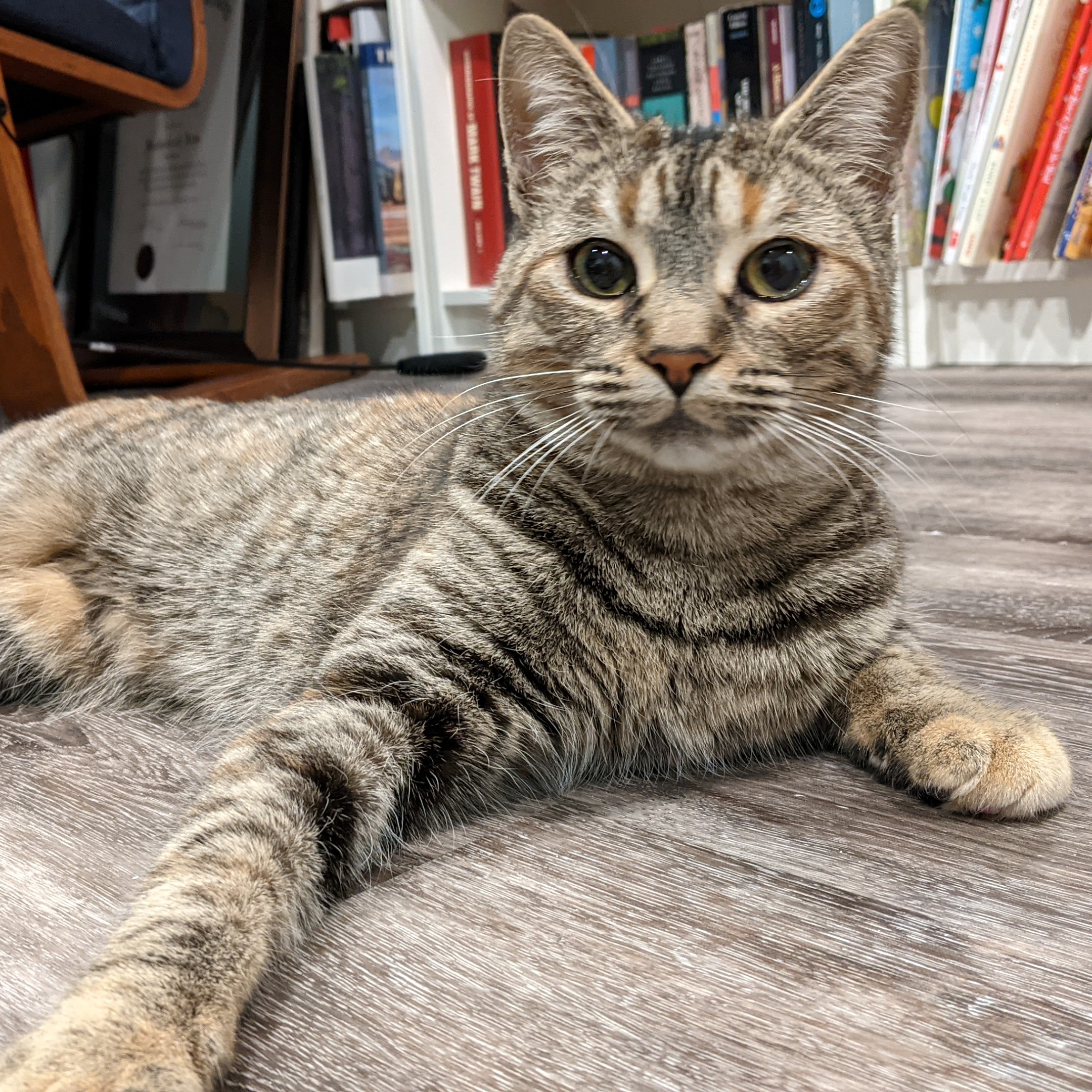 Juniper
Thanks for checking in! We feel like we won the cat lottery with Juniper – she really is the perfect cat! She is so gentle and affectionate and playful, and makes us laugh every day. She loves to chase and wrestle with her toys, and is very treat motivated. We were expecting her to be a bit nervous and timid when she first came home, but within seconds she had snuggled up with us and was purring enthusiastically. It's like she knew she had found her new family. We haven't introduced her to Jasper (our dog) yet, as we want her to feel confident in our house first. We've been allowing them to sniff each other's beds and food, and we plan to try introducing them this coming weekend. We also would like to thank you for this opportunity to bring another animal into our lives. We appreciate the vetting process and care that goes into finding each animal the right home for them. It had been a truly wonderful experience! – Andrea, Ian, William, Nora, Jasper, and Juniper
Mango
Hope you're well and thanks for reaching out. Mango (formerly Toby) is great and adjusting to our place well. He's very adventurous and always ready to explore each nook and cranny of our home, we've had to kitten-proof many spots already! He's quite affectionate and loves his pets! His favourite toys are his mouse and crinkled paper balls. He's also very talkative, specially when he's hungry or wants our attention. We weren't expecting this but we love his cute meows. We thought the adoption process was great. It was very efficient and smooth. The phone consult was very thorough and most of our questions were answered. – Numa & Ernesto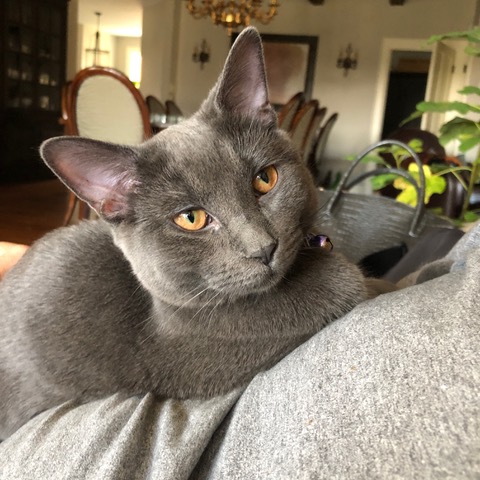 zoey
She has adjusted wonderfully to our home, she is quite the little explorer, certainly a curious cat. We've renamed her Zoey and she suits the name quite well. She hasn't presented any unusual behaviour to us and acts just like a young cat should!
I've attached pictures and you're free to use them on your social media etc.
Regarding the changes implemented due to COVID-19, of course it poses a challenge and we were anxious adopting a cat only by choosing online and picking her up. Fortunately we were lucky to receive a lovely cat, and one who has certainly exceeded our hopes and expectations. Thank you again! – Joanna & Zoey
loki
Loki is doing great! There was a bit of a set back on day 2 as when I brought him out to walk, there happened to be garbage trucks picking up in the neighbourhood, and since it was very loud and sudden, Loki all of a sudden was afraid of all trucks/buses/large vehicles. I unfortunately live on a big road, so avoiding it wasn't a luxury I had. He was so scared that he wouldn't even go pee/poo in the backyard as you can still hear the car sounds.
I immediately had to work on desensitizing him to the sound, I found a video on YouTube that has truck and car sounds playing constantly, I started to sit on my front porch and feeding him a small portion of his meal outside. I started to bring toys in the back yard for him to play and engage with to distract him from the sound. He's shown great improvement, he's ok to go pee in the back yard now, I can take him out late night as there is less cars and he would be fine, but he is still very scared whenever there is a big truck around and will want to go home when he hears one. I'm still slowly working on getting him used to the sounds, just a bit at a time, I try to keep him tired all the time, I aim to do about 10km a day in walks with him. Overall, he's doing good, just working on him not being scared and getting used to the new home! Oh and strangely he is also afraid of the stairs going into the basement, but I will deal with that after I have dealt with the truck sounds.
Thanks for checking in! – Jasper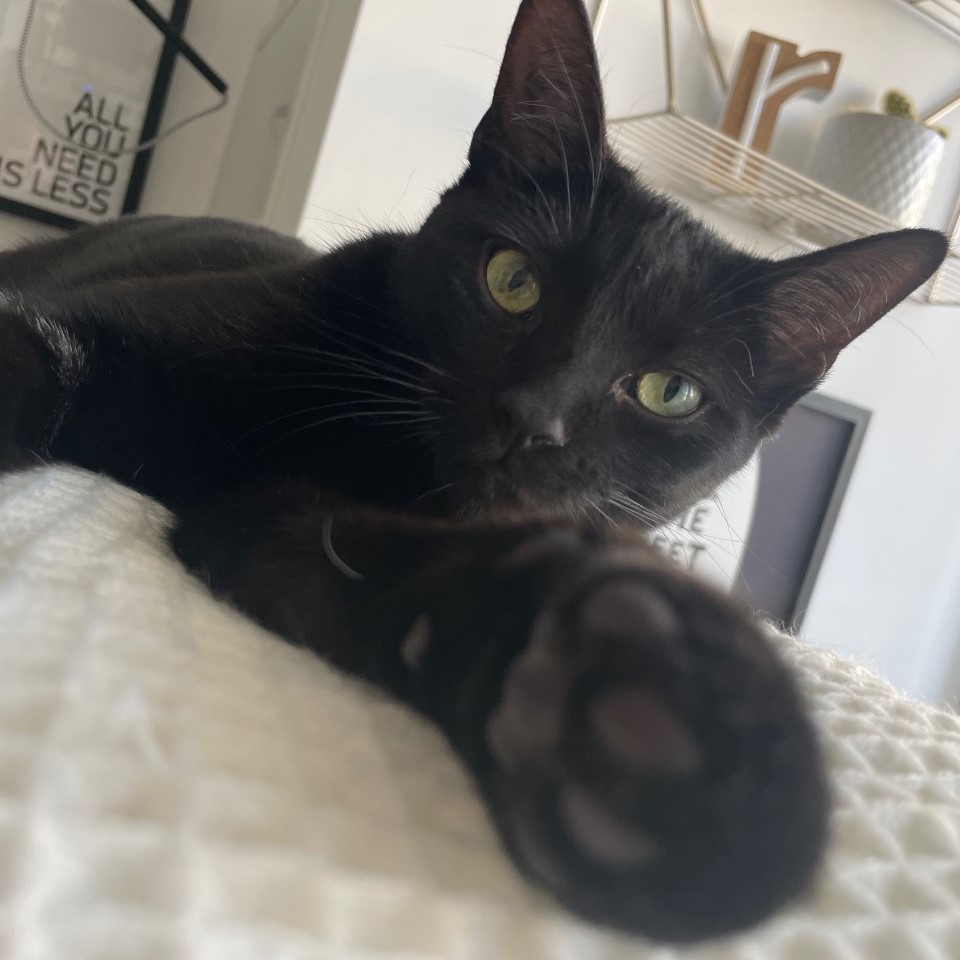 raven
Raven has been nothing short of a great addition! At first, she was definitely very timid and found her safe space in the back of my closet. But within a few days, and some interactive toys, she was right at home. Luckily there were no issues when it came to integration Raven into the space of my existing cat, and they got along right off the bat. No hissing or growling which I was genuinely surprised by – just pure fascination with one another.
Raven has been a pleasant surprise as to how fast she has adapted, she likes to be in control is what I noticed, just learning to give her the space when she needs, and all the love when she wants it!
The entire adoption process was quite easy and seamless, from the informative phone call and the pick up of Raven herself – the attention to detail and quality of service was great! Couldn't have asked for a better blind adoption process! – Rachelle
Nora
Nora has adjusted very well! I wasn't expecting her to be approachable for at least a week, but she came over for cuddles the very first night. A week in, she is settling into a routine and spending the full day either helping me work from her hammock or lounging on the living room couch in the sun. Thank you OMHS – Kayla and Stephanie are gems and made the adoption process a great experience from start to finish. I feel like Nora is a perfect match with my lifestyle and I greatly appreciate the thorough adoption interview process – you truly care about the well-being of the animals and ensure they end up in their forever homes! – Lena + Nora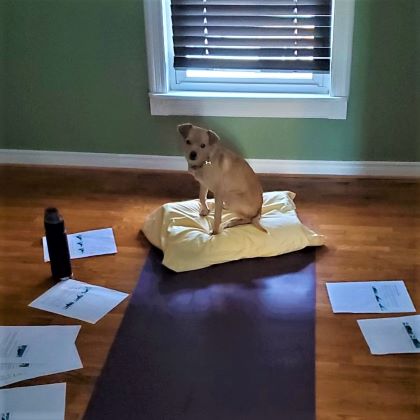 Sammy
Just under 2 months ago we adopted Sammy and I wanted to give you guys an update on how he is doing! We are loving having Sammy! He is SUCH a cuddle monster, if you are siting or laying down he NEEDS to be on your lap (or stomach if laying). Even if it is not the most opportune time (like in the floor exercise pic below)! He also really enjoys his walks…. well unless it is raining, then he has some negative feelings about going out! We are wondering how he will feel about snow. He gets along amazing with my sister's dog Hazel. He would not go up or down the stairs (a few days) until Hazel came over and showed him how it is done. He also enjoys playing with Hazel. He has met a few other dogs and gets on with most of them. Timid at first, but once we show it is OK he warms up a bit. Same goes for new people. Hope everything is going well at the humane society. Sincerely, Lilia, Violet, Adrian and Sammy
Oliver
In celebration of Oliver's 1st birthday, we wanted to give you a quick update on him. He is doing amazingly well. He has learned tricks and had a upgraded to a bigger home. He is happy and healthy and loves to play and explore anything new. He comes out every night to play and run all over us. Oliver even has his own Instagram "oliver_the_mouse_" if you want to see more pictures. He is a very sweet little boy and we love him very much. Thanks again for entrusting him to our care. – Laura and Fletcher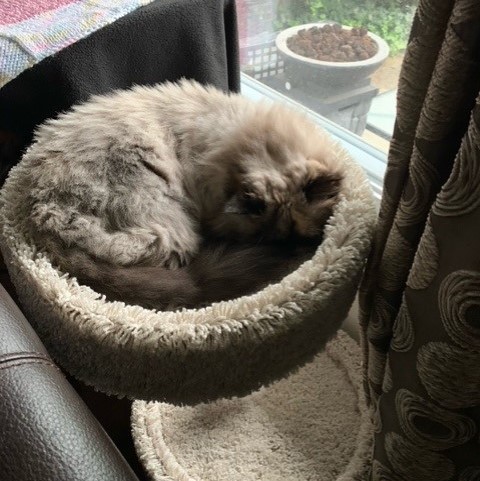 Poe
We are so excited to have Poe as part of our family! She has been settling in very nicely. She is still in her primary room and we take her out regularly now for supervised exploration of other parts of the house. She is great going up stairs, however down is not so easy. Given this, we are keeping a close eye on her for now. She is such a loving cat, we have all fallen in love with her and try to spend as much time as we can with her. Week 1 was perfect as we were able to take turns working from home to help her adjust. While the head tilt isn't too bad, her walk is fine. She wobbles occasionally when jumping (it's the landing really), and has slipped a couple of times (kind of a fall over). She also had nightmares a few times where she lets out loud meows and wakes up needing extra love. For the first several days, she would spend her afternoon under a couch. Now, she no longer goes under the couch and takes her naps on a table by the window (with the blanket you sent her home with) or at the top of a cat tree we bought her (it is short and has a rim around it so she won't wobble off). No issues with food, water or bathroom breaks! She is so great we have wondered why we didn't adopt sooner! OMHS was a pleasure to deal with. We would highly recommend people check you out before buying from a breeder or somewhere else. – Adam, Alex, Ava, & Hannah
Junie
She is doing really really well! I renamed her to Junie and she's settling in so well! She's super friendly and playful and although a little destructive at times, she has so much character and love to give. Junie's been cuddling up to me a lot and warming up to being more of a lap cat. She's super vocal and meows a lot to let me know she's following me or happy to see me when I get home from work. There aren't really any behaviours that I wasn't expecting, other than her love for food which she often begs me for more of. She also loves to sit and lay on hard surfaces, I've tried so many times to see if she'd like to sit in a bed or on a blanket but she'd much rather the floor or my desk haha. She's honestly been a really great and joyful companion, I really couldn't have asked for a better fit for me. – Nikki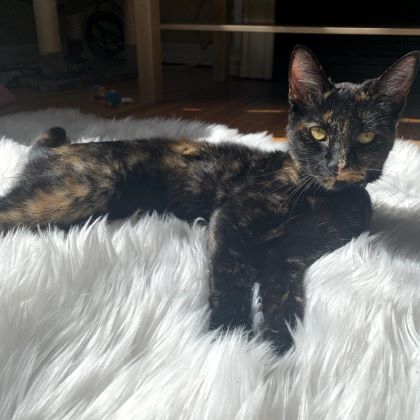 Bella
Bella has been the light of my life, and I am absolutely in love with her! She seems to have adjusted well to our small apartment, and she loves to roam around any chance she gets. Her favourite spot is on top of any window sill, so she can be a lookout for anything that goes on outside. She definitely has a sassy side to her – she is quite vocal about what she wants, and when she wants it, and if things don't go her way, she will be sure to let the entire apartment know. My favourite moment is bedtime, where she loves to snuggle up on my lap or on my chest and fall asleep. She loves to give little licks and head butts to show her affection, and she always has a funny little grunt whenever she moves – gosh, she melts my heart. She is such a sweetheart, and I'm so grateful to have her in my life. As for the adoption process, I thought it went extremely smoothly! It was a lot faster than I had anticipated because I was actively looking at adopting from other humane societies, and their application process was significantly longer. I loved how quickly and efficiently the process went, and all of the help and advice you gave to a first-time cat owner like me. Nothing to complain about from my end! – Areeba & Bella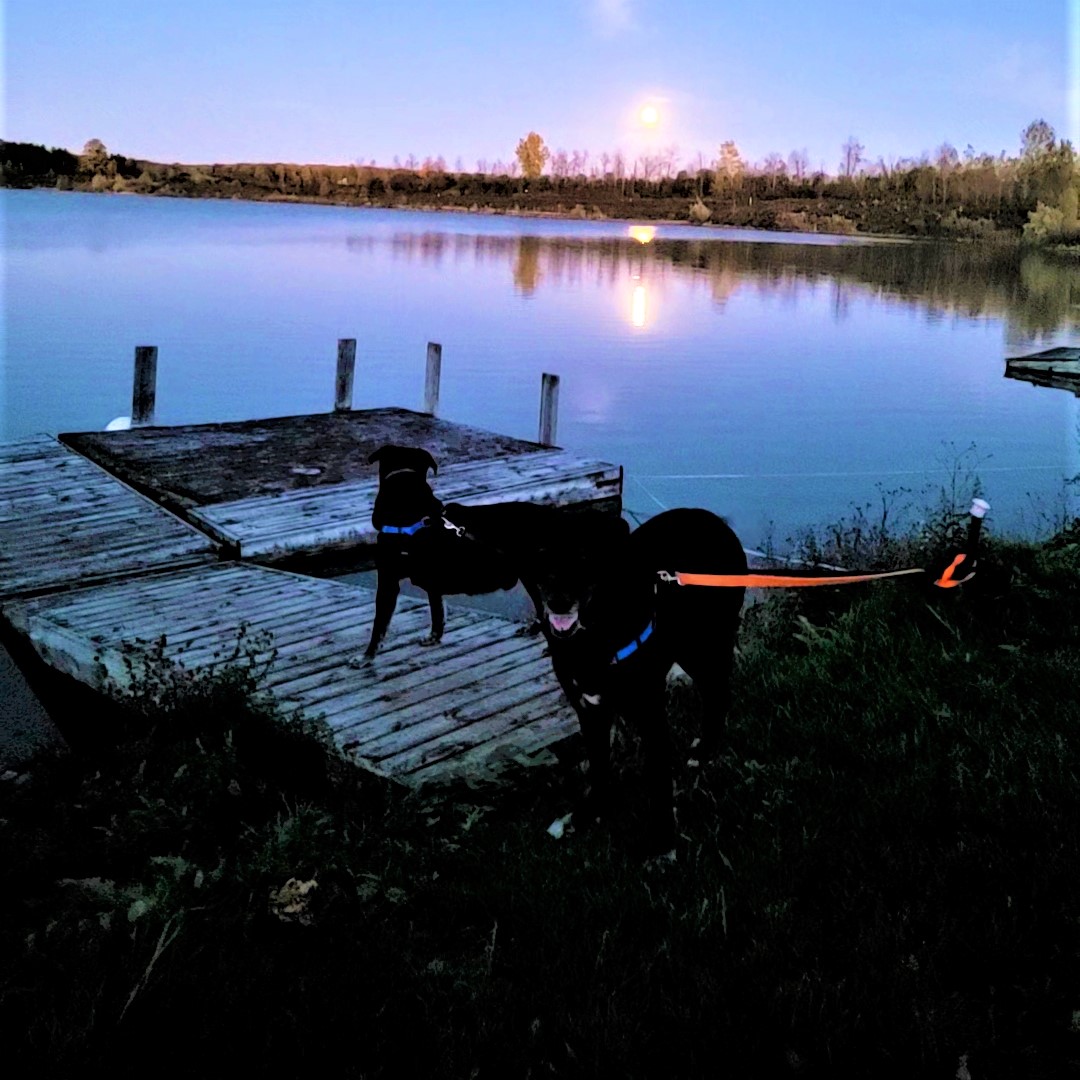 Duke & lacey
Everything is great with our new family members! Duke and Lacey settled right in and are absolute cuddle-muffins. Both are absolutely adorable! They head to bed with us each night and sleep well through until morning. Duke likes to sleep a bit later than Lacey – he sleeps so sound, dreams – both have made themselves right at home. And we have little shadows with us at all times – LOVE it! We stroll over to the lake a couple times a day. They are getting to know the routine already and head right out across our back yard looking to go to the trail. They enjoyed an extra stroll later this evening to take in the moonrise over the lake. We'll get more pictures soon and will forward. Thank you for all you do in working with these lovely creatures! – Paul and Phyllis
Rosemary
Oh my goodness where do I start with this girl. Day 1 was as expected, skittish and hiding, but day 2 was totally unexpected. She completely came out of her shell!! Coming to my partner and myself for love and cuddles, and meowing for more the second we took our hands away. Seriously a match made in heaven. She hasn't had any issues eating, drinking or using her litter box. She's fitting in perfectly, she still loves her alone time which is perfect as we both work full time. But when we get home she's ready for love. Rosie is definitely a special girl, we couldn't be happier with her. She's still spending her time in her safe room (our bedroom) but has definitely shown signs of curiosity to the rest of the apartment. Can't wait to let her explore the rest of her home. Thank you again for bringing her into our lives. We are definitely okay with pictures being put up! We will send a whole bunch once she's out of her safe room. Thank you again. We love this girl with our whole hearts
Akali
Thank you for following up! She seems to be adjusting decently well. After getting to know her this week, we think "Pix" might not be the best fit for a name. We've been calling her "Akali", which seems to fit. and she seems to like. She was certainly excited the first couple of days, and needed to stay in her safe room most of the time to prevent her from becoming overstimulated, despite her vociferous want to get out and explore the rest of our space. Now she's quite happy that she's allowed to roam most of our space. We've provided a variety of safe places for her to run and climb (moved some furniture to allow for sprinting the length of our condo, and bought a cat tree for some vertical exploration) and lots of different toys to play with! We've discovered that she loves classical music, which is great! I'm not sure I mentioned during our conversations, but Sasha and I are both classical musicians. We gently introduced Akali to our practicing (keeping the volume low, not playing anything too intense at first), and she likes to come over, listen for a while, and take a snooze. She particularly enjoys Beethoven and Mozart, though her absolute favorite composer seems to be an American named Florence Price (an excellent choice on her part). She's great about entertaining herself at night and isn't destructive, though during the day we're needing to take frequent play breaks to satiate her need for action-based attention. When she naps, she commits, and it's very adorable to watch her conk out for a while. She seems healthy and happy, and we're overjoyed that she's part of our little family! As far as the adoption process goes, we thought it was as smooth as it could be given the pandemic circumstances. We're so happy to have Akali at home with us, and we think she's happy to be here too! – Jacob & Sasha
Sharky
Sharky has settled in well from the very first day. We had set up the finished basement for him to have a safe zone when we first brought him home. We slowly let him wander up the stairs and in no time at all he had full run of the house. He's such a sweet boy and has completely adjusted without any issues. I've nicknamed him "Shark-nado" because he's always running from one place to another…especially when there's food involved! He's very affectionate and is always looking to be pet or for someone to lay on a or snuggle with. He's carved out a few favourite spots for himself which has been nice to see. We've put a cat tree in front of a big window looking over the backyard, which he loves! He gets plenty of sunshine there as well. We've been having lots of fun getting to know this little guy. He loves playing with some of my son's toys, as well as his own cat toys. The two of them get along so well and they love hiding out in the blanket fort. My son has someone to play with and Sharky has a quiet, comfy spot to hide out in. All in all, we couldn't be happier with our decision to adopt Sharky. He's such a wonderful addition to our home! The overall adoption process was great. I was a bit hesitant at first as we weren't allowed to meet the cats before choosing one due to Covid. But the OMHS made it very easy for us to request information and ask questions. The phone interview was also a big help as it allowed us to get to know Sharky and to make sure we were a good fit for him, and vice versa. Adoption day was so much fun! The OMHS has such a great partnership with Royal Canin and Ren's. The free food is wonderful, but not having to run out prior to bringing Sharky home was also good. It allowed us to keep him on the same food and hopefully made his transition that much easier. And we've already redeemed the gift card at Ren's for treats, toys and extra litter. The staff at OMHS is wonderful and I can't thank you enough for all of the work you do. Please know that we LOVE Sharky and that he's very happy here in his new home! – Sylvie
Ollie (left) & Nessie (right)
We have meant to send you an update on Nessie & Ollie (formerly "Bean") long before now, but time goes too quickly! Our amazing puppies absolutely ADORE one another and no matter how much space they have to roam, they are always side-by-side, and always touching. We have spent a lot of time at the cottage during COVID – even during the winter – and they love it! I'm sure you might remember that when we first inquired about adopting a second puppy, we had slight reservations because Nessie was so amazing, and we were a bit apprehensive about making any changes or altering our relationship with her. Well… they loved each other from Day 1, and we can't imagine Nessie not having her little brother. They couldn't be more different – Nessie is sensitive and cautious, while Ollie is game for anything – so they complement each other perfectly. Thank you, as always, for our two amazing additions to our family. We literally can't – and would never want to – imagine life without them. Thank you, thank you, thank you!- Nessie & Ollie parents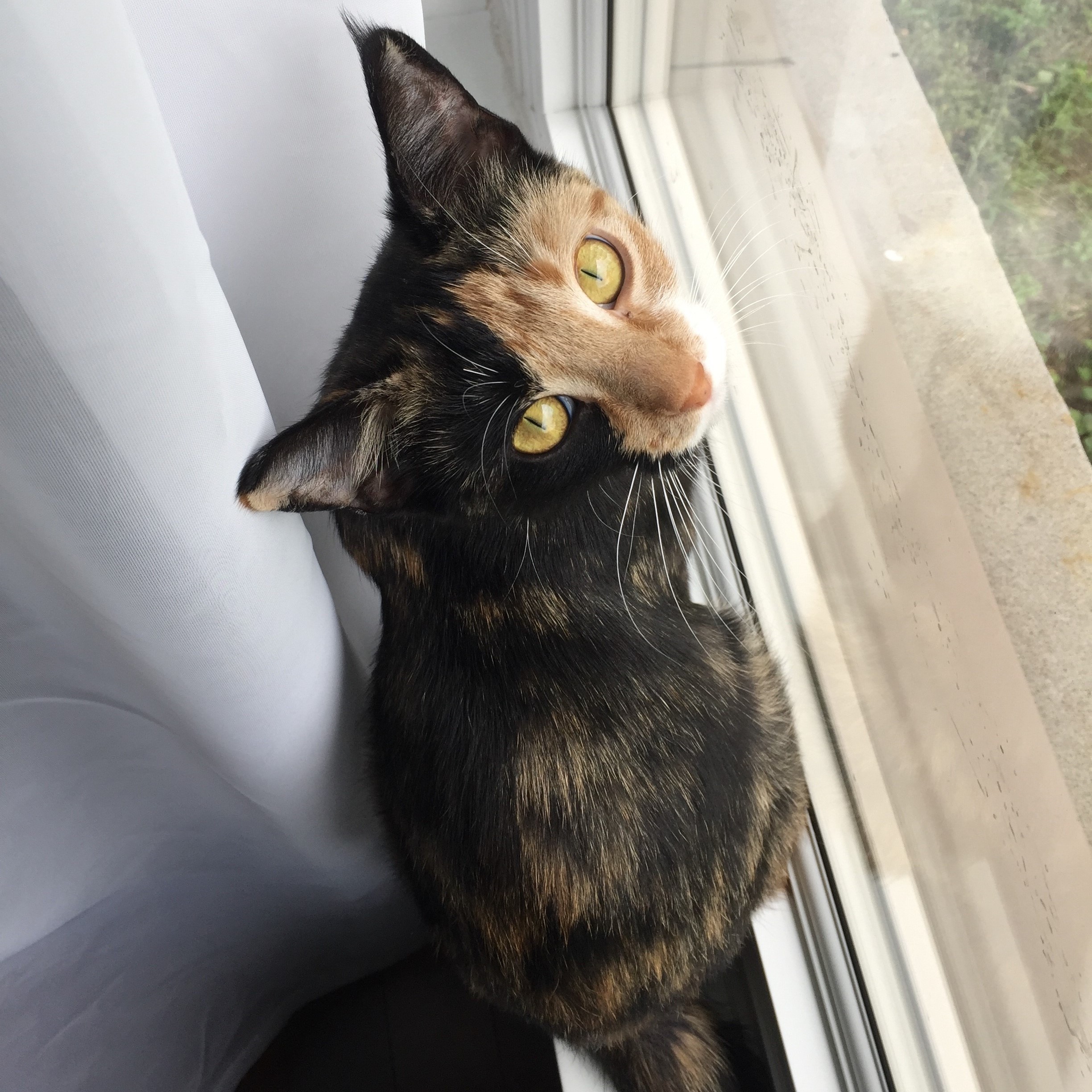 Fawn
Fawn has adjusted fairly quickly to her forever home and has been affectionate and playful since her first day home. It's funny that it has only been a week since the adoption as she acts like she's lived here with us her whole life, which is quite adorable. Everything is fine with her in terms of behaviour; she has been using her litter box normally, she loves to be pet, she loves playing with her toys, especially the feathered ones. Fawn also appears to always be hungry, running into the kitchen and meowing for food if someone is in there. She gets her rest mostly during the day and wanders around sometimes at night, meowing for attention. I didn't have any trouble at all with the adoption process and I think it is a suitable process especially given the situation with the pandemic. I am really glad I chose to adopt, especially from you guys. Thank you for allowing me to bring Fawn to her forever home and allowing her to be apart of our family. – Emily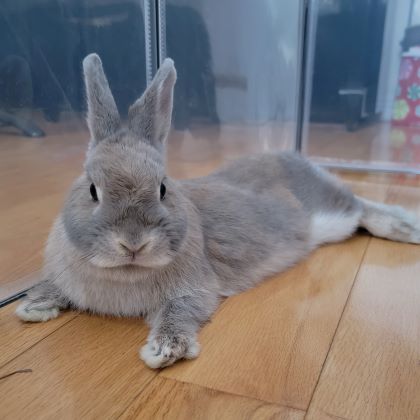 Marshmallow
Thanks for the follow up. Marshmallow has been great so far. She has not needed much time to get comfortable to her new home. Marshmallow has been very curious with her new environment by sniffing everything but luckily she expressed very little interest in wires or anything else hazardous to her. She has been very receptive to petting and is still very food motivated. An observation we've found yesterday was that Marshmallow was not very happy when her bedding was changed from carefresh to yesterday's news. The sound of the paper pellets in her litterbox freaked her out so we had to calm her down with some treats and gentle petting. Additionally, she seems to enjoy her oxbow branded timothy hay more so than the all living things brand. The entire adoption process experience with OMHS has been wonderful. From the moment I submitted my adoption application to picking up Marshmallow on the day of adoption, all the way up to this follow up email, OMHS has provided a very easy and comfortable adoption process despite changes made for the COVID-19 pandemic. I would most definitely recommend my friends who are looking to adopt an animal to give you guys a visit! – Tony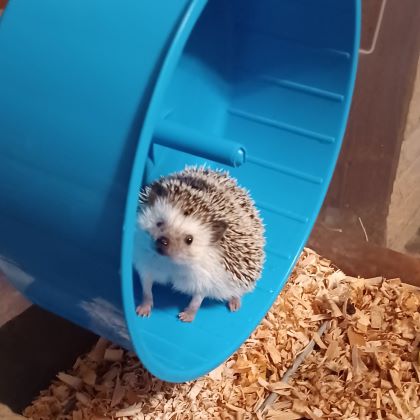 Bubbles
Myself and Bubbles are doing quite well. Bubbles had quite a stressful drive home but once there he seemed to settle in quite well. We gave him a ball in the box you provided and he took to that almost immediately. He took some time exploring his enclosure, walking around, checking out his toys and running on the wheel for a few hours. We have changed out his house since the videos were taken as he had a habit of digging under and flipping it over so we decided a stump house with a little extra weight, we also changed his food bowl as he tends to walk into it as he's eating and was dumping the food on himself, balling up and then running into the house. Trial and error with this little guy. I wasn't expecting was how comfortable he is with his environment so quickly. With our other hedgehog he does not allow you to watch him on his wheel but with Bubbles he has no problem with you being around, he goes about his business and it's a joy to watch him. We have tired holding him a bit in the cuddle sack to mixed results. He seems to calm down but the slightest movement will stress him out. Last night he had his first bath, Bubbles did very well. After the bath we had the most successful holding session yet as he was drying off. I had him in some towels and he calmed down enough to gently pet his quills and he snoozed a bit. This was such a wonderful moment. My experience at OMHS was absolutely wonderful, the adoption process from originally putting in the application was fast and picking up Bubbles was well handled and organized. – Ross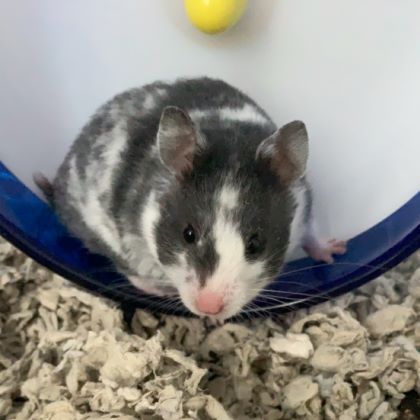 stevie
Stevie is doing really well! She is really curious and friendly and loves to get out of her cage and explore. She loves her food (see the picture of her checking out her food when she was out exploring) and continues to love her lettuce. She has tried the ball and goes quite fast in it! She's not a big fan of the tunnels we bought for her cage and we are looking for a bigger wheel because she doesn't like the one we have! She has such a sweet personality, we are really enjoying her. Thank you for allowing us to adopt her. The process was so simple and straightforward. – Michelle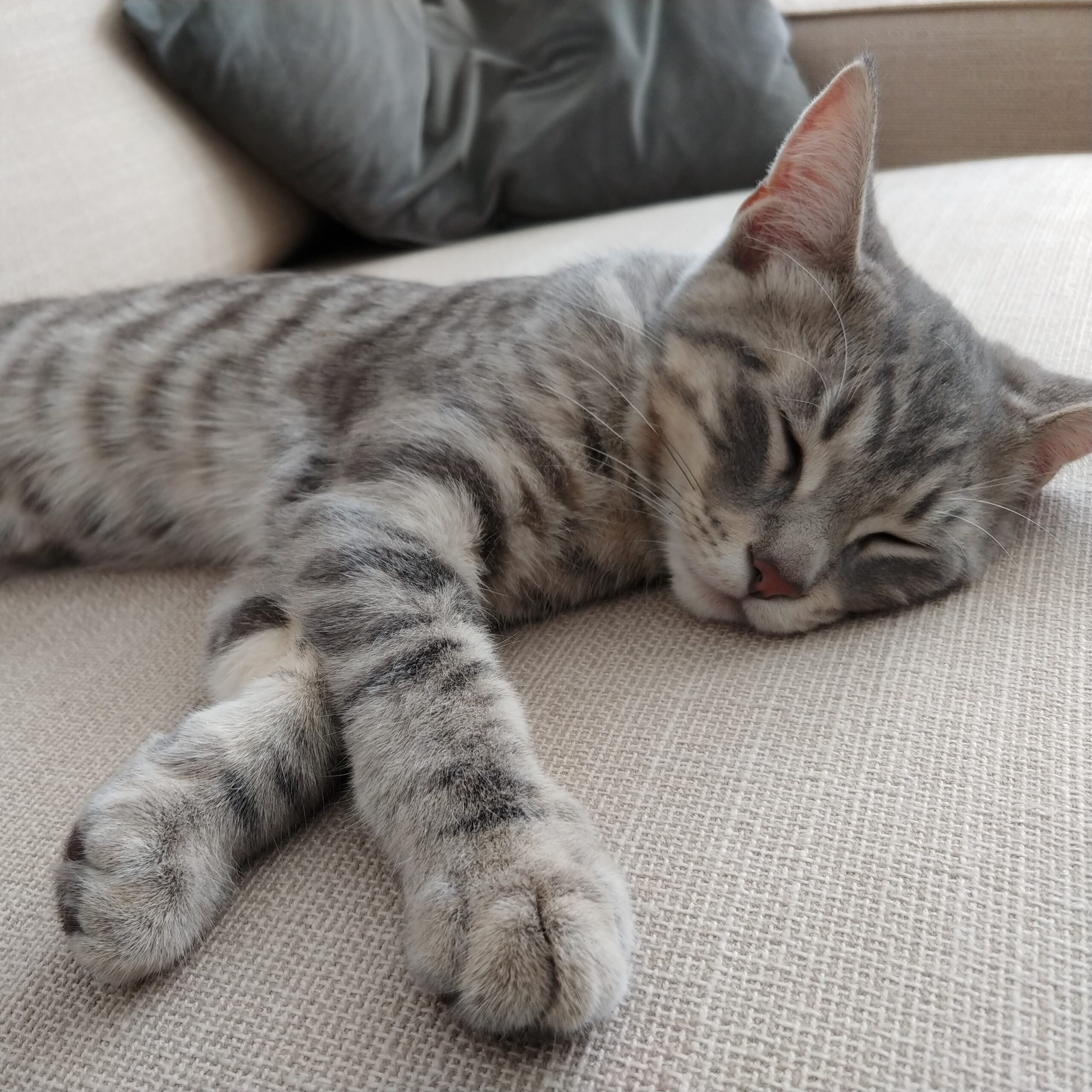 Marty
Marty is doing wonderfully! He's so playful and affectionate and has taken well to our routine. No unexpected behaviors other than he's quite affectionate, way more than I expected. That's a good thing! I had a guest over and Marty immediately took to them. He loves to be near or on us as he sleeps which is the sweetest. His first vet visit went well. He received his final booster and the doctor said he looks great. They also commented on how social and curious he was. He took to his litter box immediately and also has been eating well. I've had to kitten proof a few things, but he now has free reign of the majority of the house (I keep him out of my kid's room because I don't know what they leave under their beds and I don't want Marty chewing on something he shouldn't). You mentioned he was a "bolter", but we haven't seen too much of that. However, we are careful and are going through the garage as you suggested. Thanks for that tip. There was some furniture scratching, but I moved a scratching post to the spot he would go to and that has helped, at least during waking hours. I'm not overly fussed about the scratching either way. The adoption process went as well as it could've given the situation. I don't have any suggestions for improvements. He's such a joy. Thank you to you and his foster home. We absolutely love him. -Diane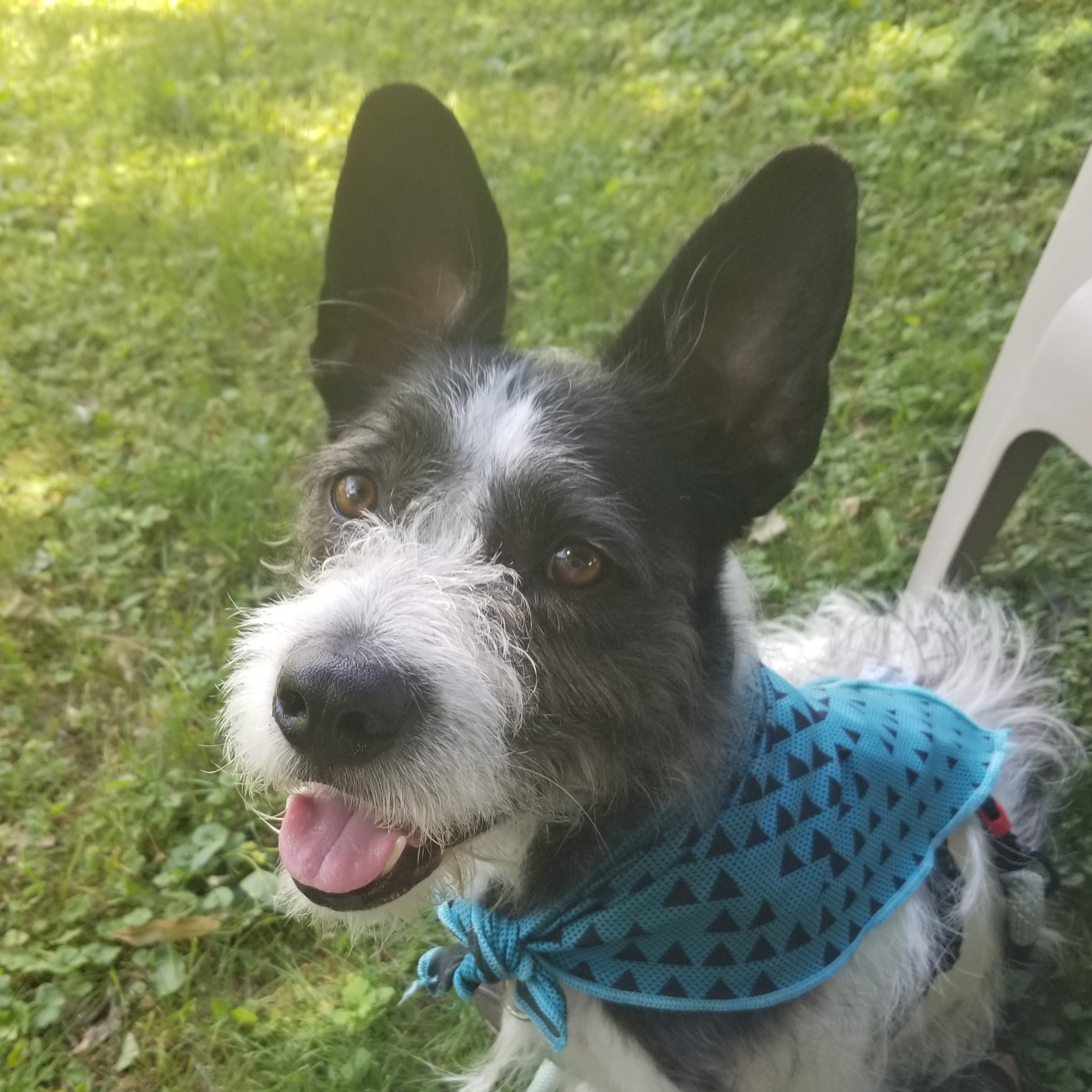 spot
Spot is doing great so far. He is still getting settled into our routine after me being off for a few days after bringing him home. He has been good on his walks and we are starting to do some training at home until his obedience course starts. He loves his tug (rope with knots) and can be found cuddling with it. He is also pretty good at 2 ball fetch. He is definitely a little ray of sunshine. – Jill & Matt
Ruby
Just wanted to give you an update on the bonding progress so far! It seems I have two bonded buns! They moved in together 2 days ago and it has been great so far. I really couldn't believe they got along so quickly, I was prepared to be at this for at least a month. There has been no aggressive behavior at all between them, so I am hoping it stays that way. Momo (on the right in the photo) and Ruby (on the left in the photo) have been doing very well! They are both demanding grooming so far and neither has given in willingly yet, but we make sure to give them head scratches off and on so no one gets insulted. – Sarah
Pearl
Thank you for following up with me on Pearl. She is such a sweetheart and is doing extremely well. A perfect match for our family. She walked in to our house like she owned it. She spent the first night in our guest washroom and was pretty comfortable. Has been using the litter box well too. She snuggles and cuddles with all of us through the day. Loves being picked up and hugged and kissed and she reciprocates. Bought her a few toys, some she likes and others she rejected. My son built her cardboard box house that she likes to sit in, as well as shred (will probably have to build a house every couple of months). We respect her space and freedom just as she does ours. We thank you all for everything that you guys do and maybe some day we bring home a companion for pearl. – Kalpesh, Mamta & Neil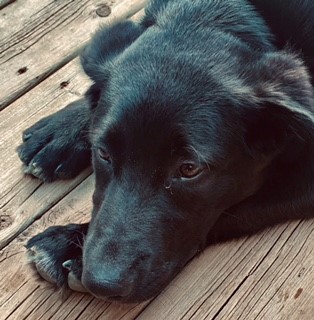 Bear
Thanks for reaching out to us! Bear is doing amazing. Our whole family is really happy with him. He is still his sweet self. He is kind, sweet and gentle. He is doing all his usual puppy things. He is quick and eager to learn. We feel very fortunate with him. He has settled in really well with us! Thanks so much! – Nicole and Family.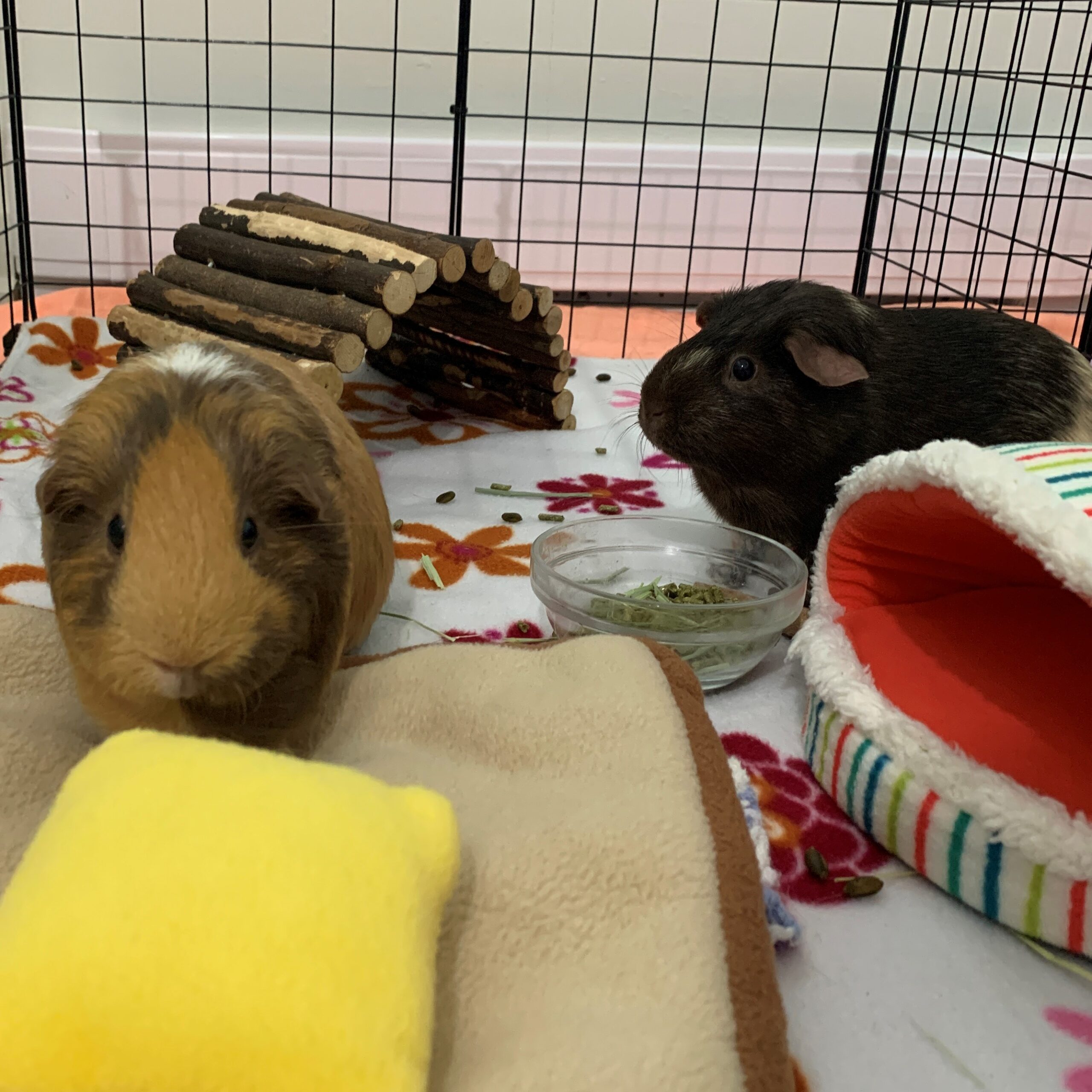 Sapphire & Rose
Sapphire and Rose are settling in well, and are learning our daily routine with our other Guinea Pigs. We are starting to slowly introduce them to our other girls, and have been getting used to seeing each other between the side of the cages. Overall the adjustment has been going well. Sapphire and Rose are starting to become more vocal when we walk into their room and greet us with "weeking". They are very sweet and are showing their personalities now. We are very happy to have them part of our family. – Carleigh
Indy
Thank you for checking in!
Indy
is settling in well, slightly nervous, but getting better everyday. She is much more comfortable with us already. Her and Snowy (our cat) have touched noses and get within 6inches of each other. They are doing well together and we are hoping that they will be great friends. She is getting into a routine and can be a very slow walker in the summer heat. Sometimes she will stop and just refuse to move at all, even with treats. It has resulted in us having to carry her home which she doesn't seem to mind.
We are doing shorter more frequent walks that are earlier in the morning and later at night to beat the heat and that is making her stop less often. We are starting training soon and know she will learn a lot. –
Kylie & Chris
Pfizer
Pfizer is doing great! He is everything that you described to us. At first he wasn't the budgie we remembered when we found him and brought him to the shelter. He was very quiet, made scared chatty noises if we came near him, but thankfully within a few days he came around a lot, and now he sings all the time, and interacts with us like he's actually enjoying it too. As far as him trusting us, I think we are at about a 6 or 7 out of 10 with him. He does eat from our hands (millet) and occasionally takes small commands to jump up on our shoulders. His favourite is jumping on our shoulders so we can walk him over to a mirror. He loves his cage, and we can clearly spot his routines already. His favourite branch, his favourite toy, his active times, and how he naps every afternoon. His cage is open from morning till night (except for when we are cooking meals). He has the choice to fly out anytime he would like, but that's actually not very often, and it's never for long. He soon returns to his favourite perch and is happy to watch us from there most the day. Every day he samples one new fruit and vegetable. His cage is on the main floor of our house and he can see at least one person at any given time. He rewards us with his beautiful chirping, and we think we are even hearing a few words! He says 'meow' and maybe 'you come out', and if we run water, he mimics the gurgling water noises! He loves to splash in the water on the counter around the kitchen sink. Surprisingly nothing yet has startled him, not the blender, the vacuum cleaner or the piano…he's very easy-going. When we cover him at night he is completely silent until he is uncovered the next morning, at least 10 hours later. It's a joy to see him in the morning. –Tracey, Sam and the rest of the family
Gracie
Gracie is fitting in well with our family. There is no question that she is timid but she has lots of love to share. The first day she spent in our spare bedroom although when we went in the room and sat on the floor she was happy to come visit for some petting. She now has access to the whole house. Gracie loves to play with a wand toy. She also loves a wavy scratch pad that she uses to scratch but also loves to lay on. She loves our backdoor sliding glass doors as we call this her tv as she likes to watch what is happening in the backyard and also lay in the sunshine in the afternoon. She likes to be pet and purrs a lot. The adoption process was smooth and I don't have any recommendations on changes. The details about Gracie that we received over the phone and answering all our questions, your team did a great job in helping us to better know Gracie even before we met her. – Nicole & Gracie
Iris
She is an amazing dog! I am so glad to have found her. She was obviously crate trained on top of the obedience training we knew she had. On the first night she was a little antsy and moving around to different spots then looking at herself in the mirror. The first time I let her off leash in the yard was hysterical – she started just moving around sniffing, suddenly realized she had all this space and got the zoomies. Then she discovered there are paths between the swales
(there are 6 curved rows to the 'permaculture' garden)
and started racing down one and up the next until she realized I was in the middle of one over from her and hurdled it to get where I was, thought that was great fun and hurdled the next 3, then raced back. I think she will be great at agility! She comes when I call, and will go back into the house on her own when she thinks its too hot to stay out in the yard and will race in ahead of me if I ask if she wants treat. Thank you again for everything!- Jacquie
Hazel & Harriet
The girls have been adjusting well. The cat and dog have adjusted well to the girls also – we have had no instances of bad behaviour when they are all out together. Thank you for allowing them to become part of our family, we love them so much! -Alana
Minette
Minette is doing great! The family has fallen in love with her and we think she is pretty comfortable here already. She has lots of energy and loves to play. She also seems to really enjoy being carried around like a baby which my girls just love. There hasn't been any odd behavior that we have seen. She insists on being in the same room with us at all times like you mentioned. Overall we are very very pleased with her and are grateful that you were able to match her personality to us perfectly. Our experience with OMHS was wonderful even with the Covid restrictions – I don't think there was anything that could have been done to make the process easier or improved. -Deanna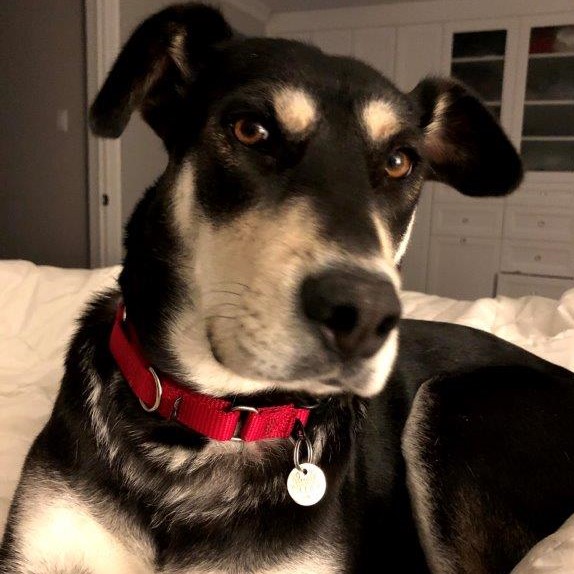 Daisy
We thought we would send an update on Lita (we have renamed her Daisy). She is a wonderful addition to our family and is an amazing dog. She's made friends with all of the dogs on the street and is wonderful with all of them. She loves people too, so on our walks meeting other dogs and other people = heaven.
Alfie (also from OMHS) and Daisy have decided life is pretty good together! We were frankly amazed that our cat only took 3 days to accept Daisy, day 1 there was some hissing (to be expected) but that was really it. Even when Alfie goes bonkers chasing his toys or quite literally falling off the couch while being a nut (and landing on the dog), Daisy just shakes her head and looks at him like he is crazy. Daisy has even decided to "share" her dog bed with Alfie (or in reality the cat took it over as Daisy has another that she likes much better).
Thank you to the wonderful foster homes she was in before and for OMHS taking such great care of her, we can't believe how lucky we are to have her in our lives.-
Shannon, Mark, Niall and Paige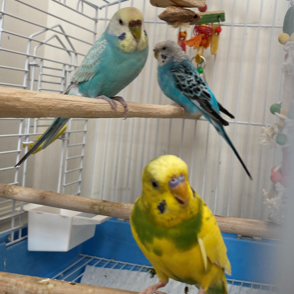 Candy
Candy is doing really well, she has grown comfortable around the new surroundings much faster than we expected. She plays with all her new toys with so much energy, like a little toddler, it's the cutest thing to see. We'd started her introduction to Yellow and Bloo and although at first Yellow and Bloo were slightly confused and surprised, they've now gotten to become great friends. Wherever Yellow goes, Candy's just a step away. Yellow's chaotic, curious energy ended up matching perfectly with Candy's and Bloo's been very sweet with sharing her toys. We're looking forward to seeing her grow even more at home as time goes on.- Neha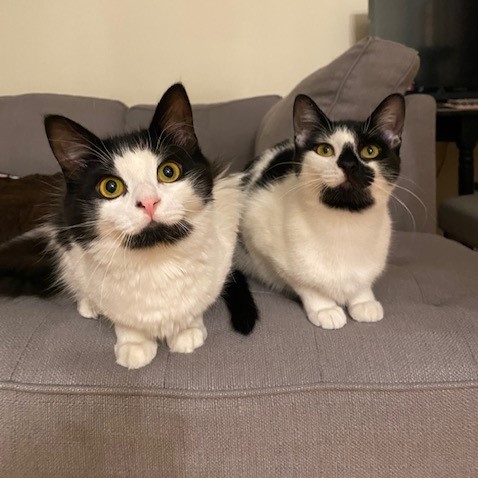 Pekoe & Chai
Pekoe and Chai have adjusted really well so far! They left their safe room on Friday and haven't looked back haha! They've even been cuddling with my boyfriend who visits a few times a week! They're also eating well, and love to play & cuddle. Honestly the only surprise is a good surprise, and it's how fast they adjusted. I was prepared to not be able to cuddle and play with them for a bit, but here we are! I honestly can't thank you all enough, the adoption process was so smooth. It's probably really difficult during covid to safely adopt and I think it was executed really well. I really appreciate all the quick email responses, and the through phone meeting as well. It's clear based on how these two are that your animals are well cared for and loved. I hope future adoptions go as smoothly as mine, and that you're all safe and well! -Amanda, Pekoe & Chai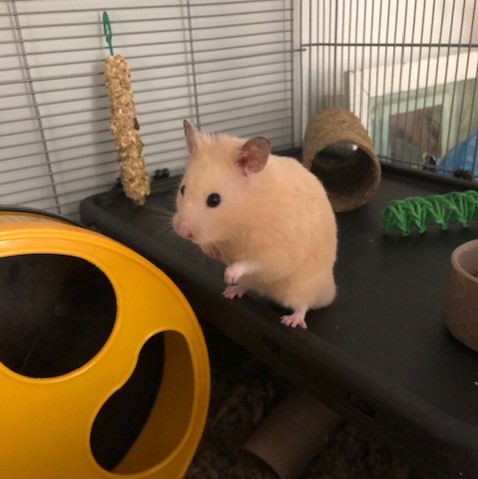 Mr. Happy Pants
Mr. Happy Pants has adjusted to our home wonderfully. He loves rolling around in his ball and running on his wheel. He also enjoys the occasional treat here and there. He always seems ready for our play time and I believe he loves it. Mr. Happy Pants showed no unexpected behaviour and his behaviour lives up to his name, he's always super happy! I love that you strive to better serve the public and animals and so I only have positive feedback: good work and thank you for being safe during Covid! Finally, thank you for allowing me to adopt Mr. Happy Pants!!- Brigitte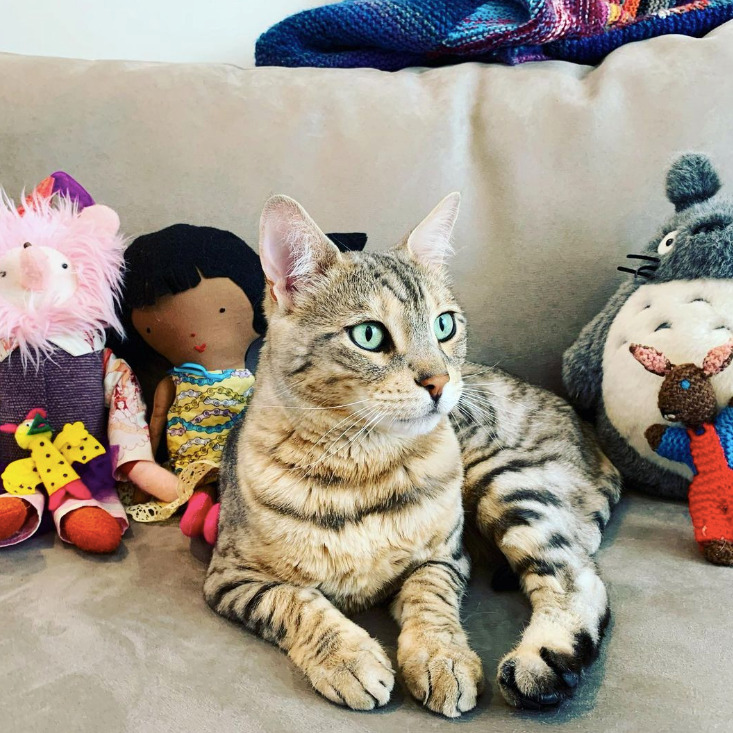 Toshi
Just thought I'd let you know that Toshi is doing very well. He's such a great companion and is for sure loving life. He knows how to open the bedroom door to let himself in at night, loves to run through tunnels, gaze out the window and find treats in his puzzle. He even makes daily appearances in my online kindergarten classroom. Thank you OMHS for giving me the opportunity to give this silly boy his forever home!- Heather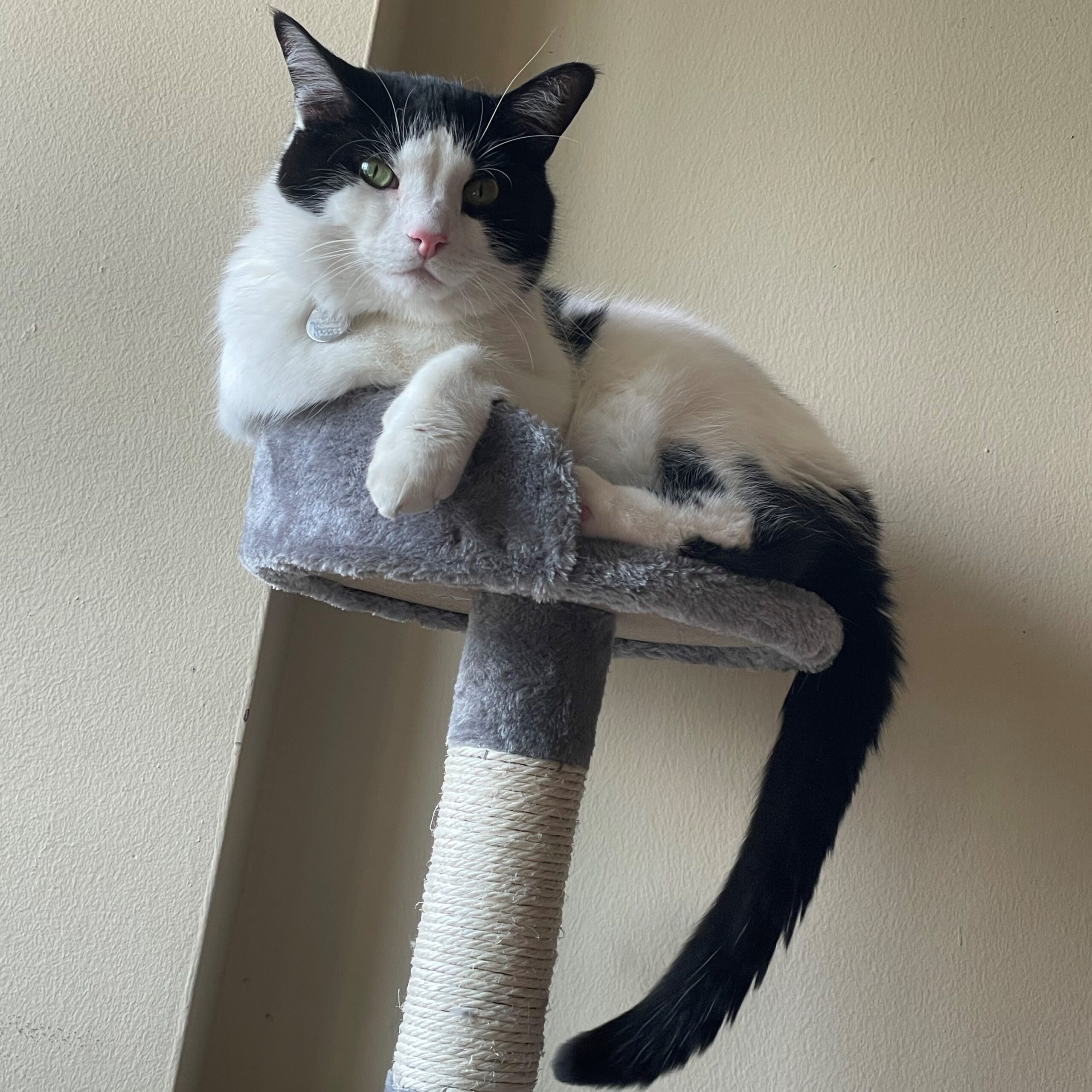 Chuck
Chuck Norris is adapting well to my apartment. He's slowly getting more comfortable with the whole thing, however he definitely likes his tower in my office the best, as he stares out the window. I bought him a couple of puzzle toys, and he definitely enjoys playing with those. One of the first things he took to, was actually the bag I was given to help carry his food out — I guess it had the smells of ol' and he loved laying on it. I bought him a few toys so far, and he loves the teaser the most — I've actually tired him out while playing with it, and I've learned why they call them cat-like reflexes haha. He's starting to love the soft toys I got for him, seemingly overnight he's started playing with them all. I notice he startles himself, and he'll run the entire length of may apartment (and often back). He loves exploring anything and everything, including behind one desk that I now want to explore behind because of how much he loves it. He definitely loves when I brush him, always purrs, and often flops on his back so I can brush his belly.
I've definitely enjoyed every moment with Chuck Norris so far. Very happy I made the decision to adopt him, and I look forward to some great moments with him!
Thanks to all your staff and the wonderful work and services they provide.- Scott
Henry
We have absolutely fallen in love with Henry! He was very shy the first few days but he came out of his shell much quicker than we expected and he has the sweetest personality. He is always on the hunt for some attention in the form of scratches, cuddles or playtime. He is still nervous of loud noises and sudden movements but we've seen huge improvements in his confidence already so we're sure that won't last forever! We spend most of our evenings taking turns playing with him until he tires out (which takes a while!) and he's been great at sleeping through the night. When he's lacking some much needed attention he doesn't hesitate to tell us with one of his adorable squeaks and tends to follow us around the apartment rubbing at our legs until we get the hint and pet him. He's fitting in so well with our family and we couldn't be happier!
Our only feedback about the adoption process is that we were so impressed with the counsellor we spoke to about Henry before we adopted him. She was so knowledgeable and overall it was a great experience. Thank you so much!!- Sylvia & Khaled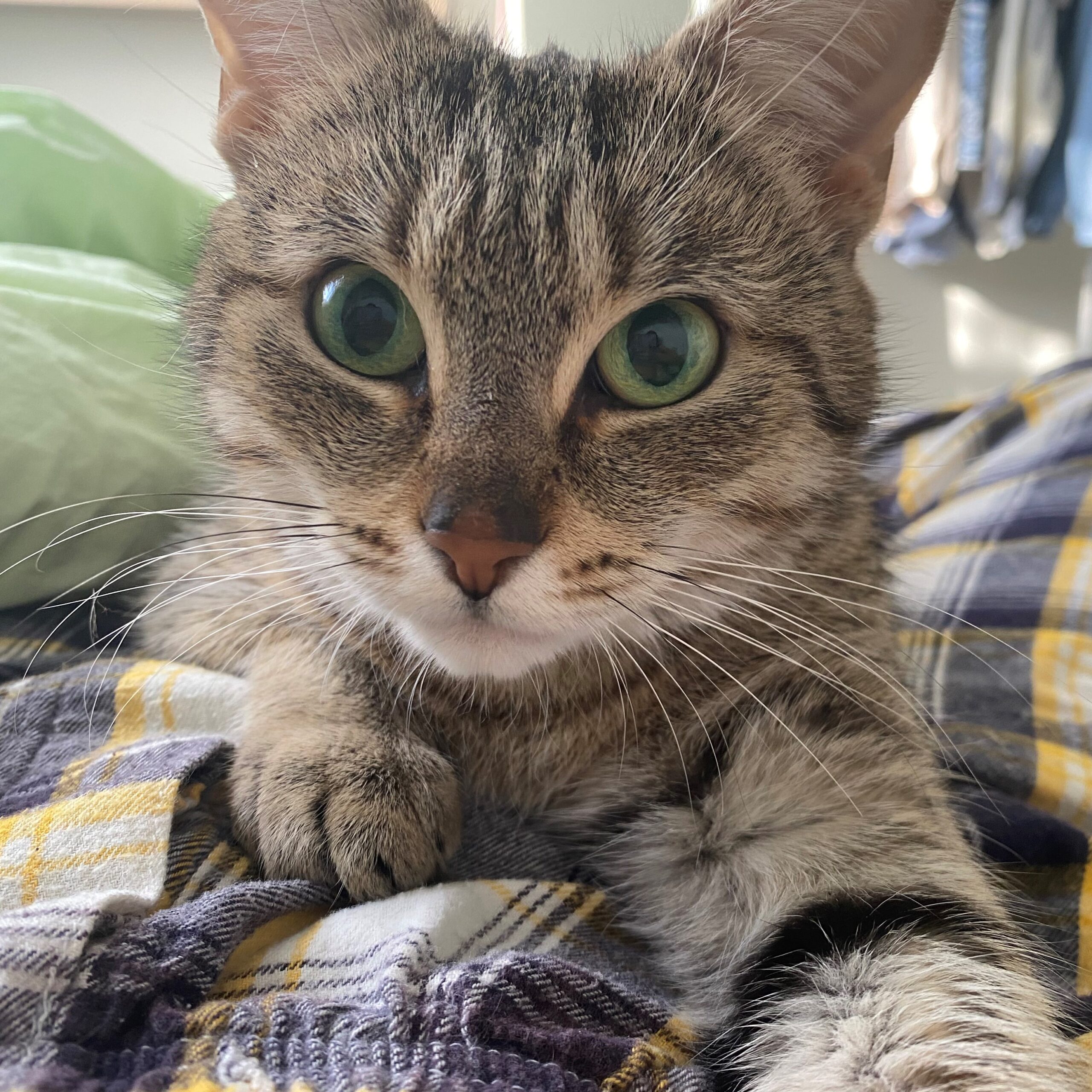 Tikka
Tikka is doing very good!, she is such a sweetheart and loves everyone. The first couple of days she was a bit scared as expected but she's gotten used to my home and is gaining tons of confidence! She is a bit timid around my other cat but everyday she's getting more comfortable with him. I slowly introduced them and I hope with more time together they will get along nicely and be friends. Tikka is the perfect kitty, I've had no issues with her. I love her so much already and I can't wait for her to feel completely comfortable in her new home.- Faith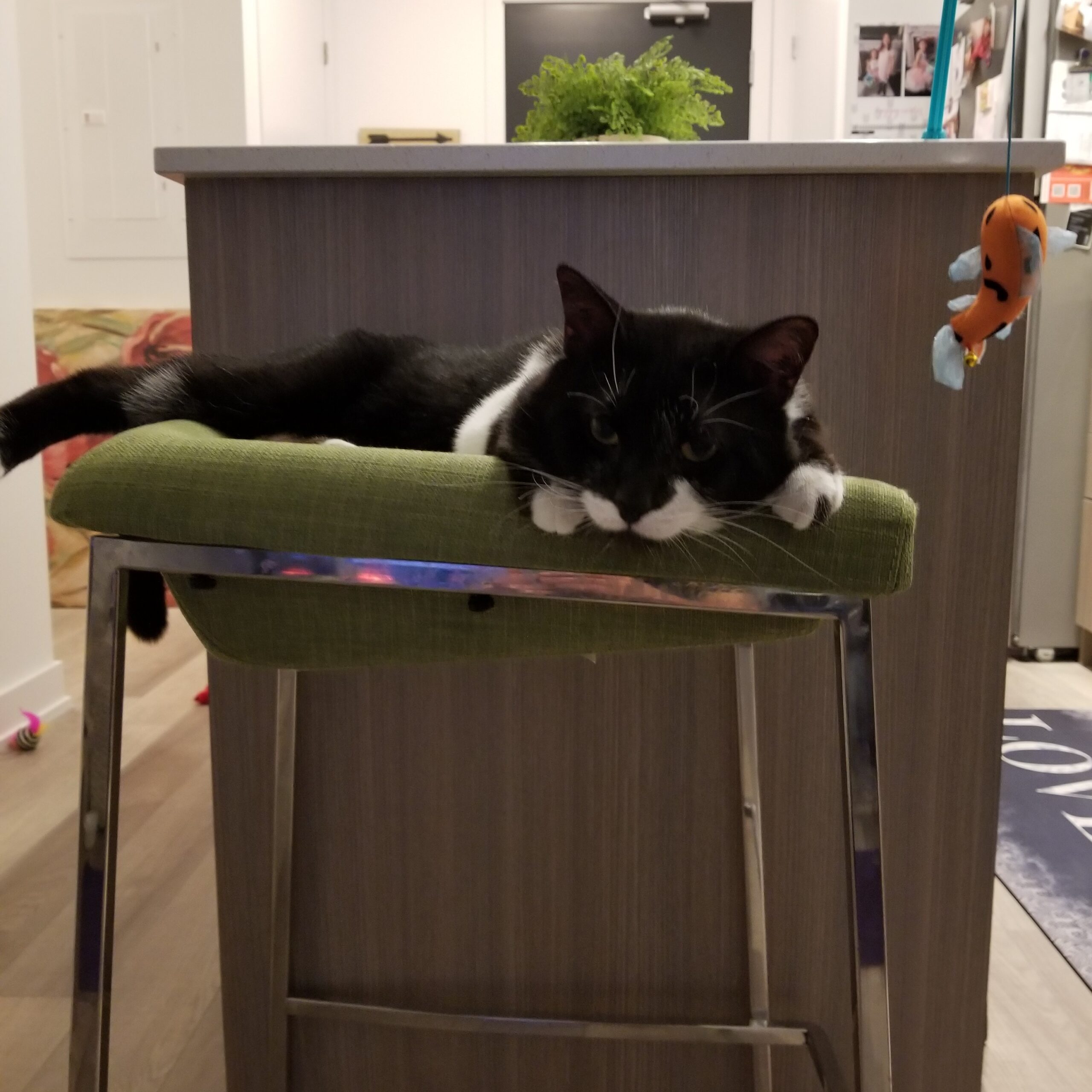 George
George is settling in so well! He is so affectionate. I just love him already so much! I cant believe how affectionate he is..he will literally hug me, purr all the time. He is very curious..and is always exploring. He has been playing so well, whatever toy he loves, he will take it in his mouth and put it in his favorite spot. He is also so vocal. I just talk to him back and ask him what he wants. I think he just wants to be held and picked up. He purrs instantly! He is so adorable. Quite the character! For some reason, he loves to chew the branches of this wreath I bought. I had to take that down.
I wanted to thank you for doing what you do. I have always been an animal lover!! He is such a perfect fit for me!
-Sung Mie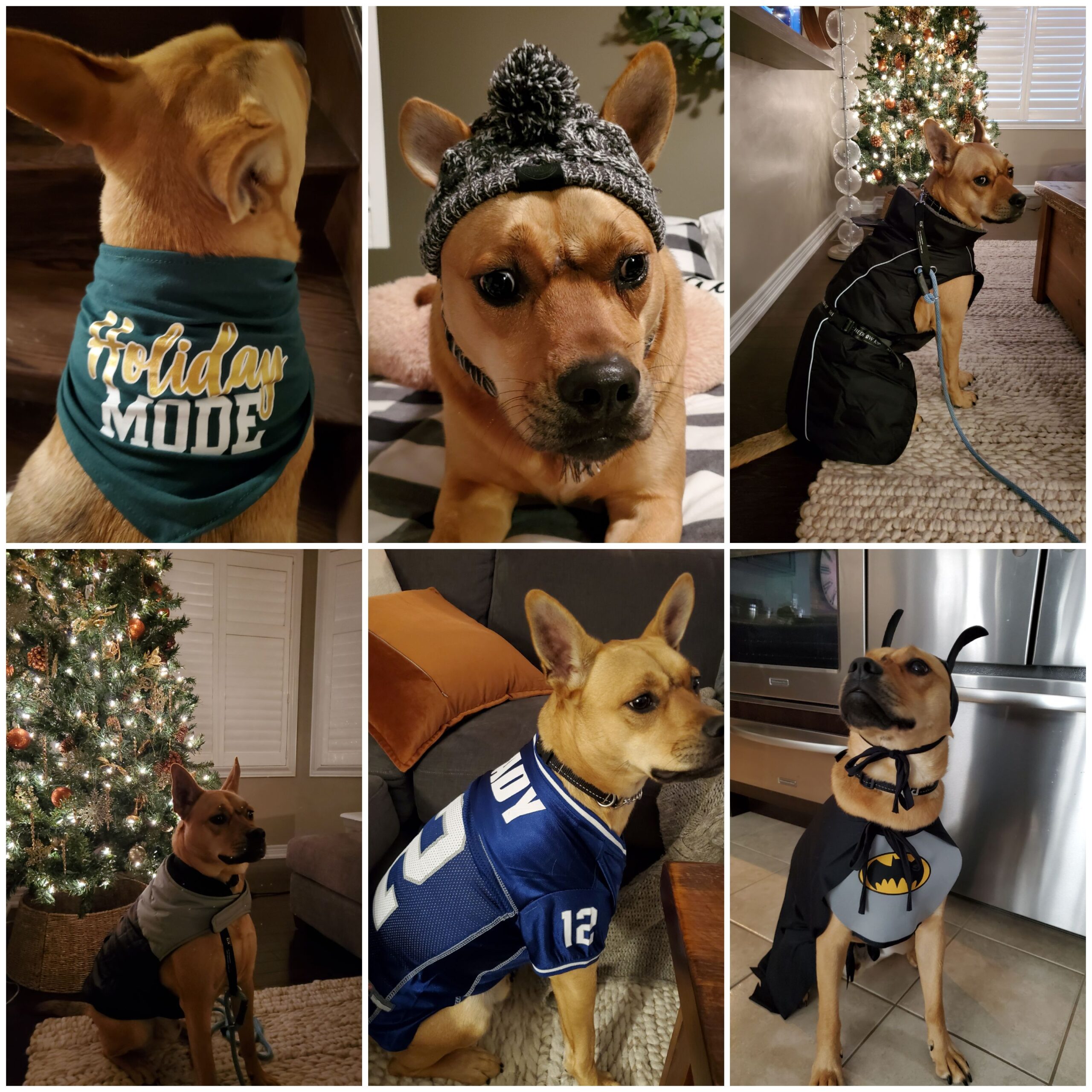 Dennis
This is long over due, but I just wanted to share how Dennis is doing. Its been less then a year since we adopted him and he has been doing fantastic. He did really well with his training. He is great with other dogs of all sizes. He goes to daycare once a week to get some of his energy out and to socialize, play and meet new friends. He has been a great addition and is personality entertains us everyday.
*Please note, while Dennis does not look the happiest in his expression, this is just his permanent facial expression. He is loving life!*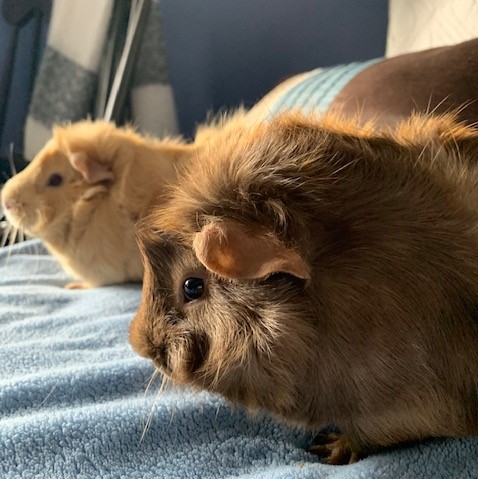 Mango & Joey
Hi There, Mango and Joey are doing well. They like to play a game we call Piñata
fetch. We fill the paper rolls with food and hang them for the guineas to have hours of fun. They are very friendly, gentle, loving and they make very funny noises. We thank their foster family for giving them a good start and helping to get them ready for their forever home with us.
Angela, Louis & Nathan
Maisie
Maisie has adjusted very well to our home! Almost immediately she seemed comfortable in her new space. She has been very affectionate with us and enjoys cuddling (on her own terms). Within the first few days she was sitting on the couch next to us and even sat on our laps for a short while. She recently discovered our bed and has been enjoying many naps on it. We have been trying to get her to exercise more, and she has taken well to changing after foam balls.
Maisie let's us know when she's had enough, and we are getting to know her warning signals and respecting her boundaries. She seems happy and comfortable here and we are enjoying having her part of our home!
We are extremely happy with the process and grateful for all of the staff at OMHS.
Cheers!
Sarah, Kasey, and Maisie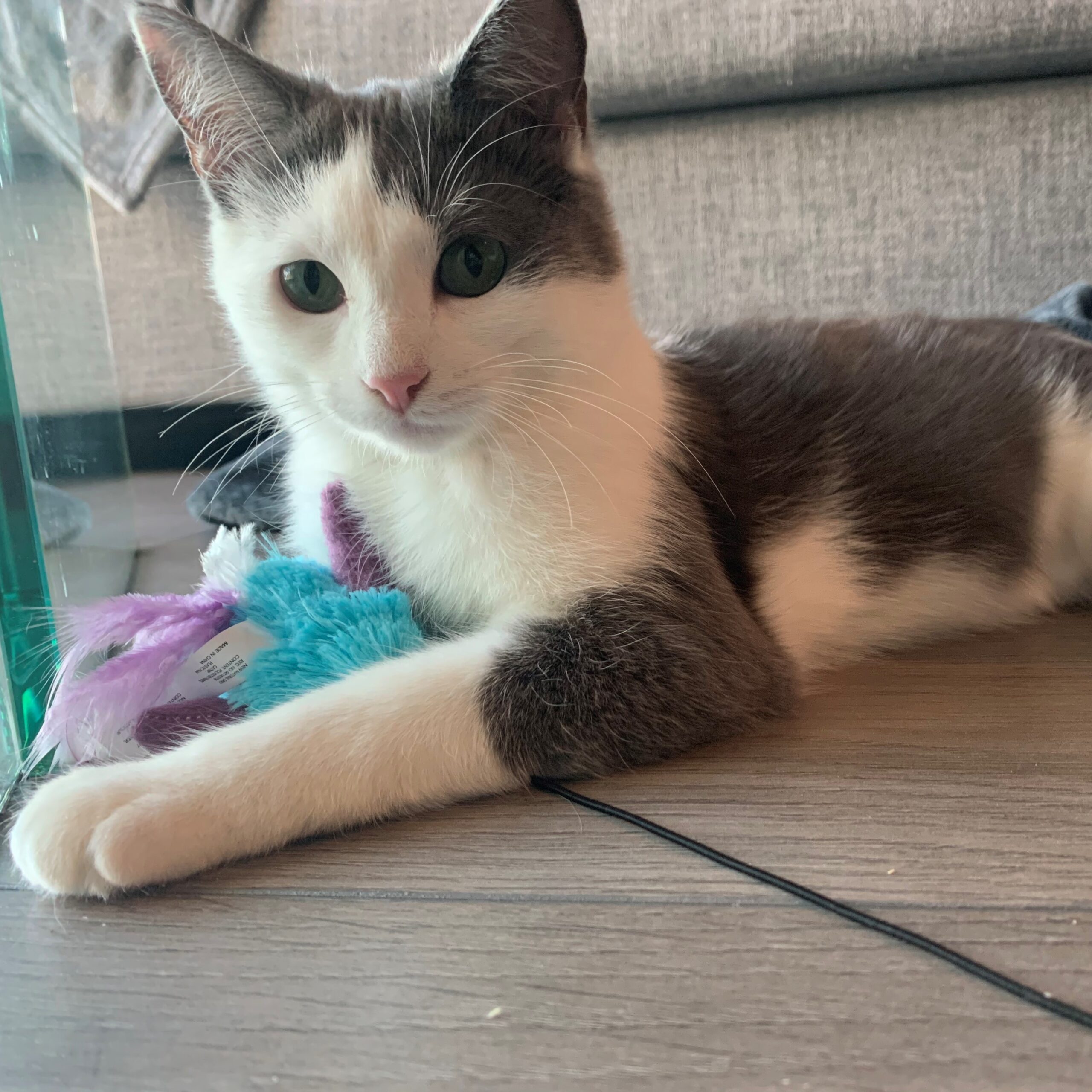 Lily
Lily (formally Cher) has been an absolute joy to have and is adjusting well. She was very active and talkative the first night however seems to be mellowing out a bit and getting used to her new surroundings. She is very cuddly, affection and loves to play. She loves to jump and be up high and is enjoying her 6 ft cat tree.
We are so grateful to have a new addition to our family especially in this difficult times. Thank you to everyone at OMHS for making the process easy and quick while making sure we were well informed of her personality and needs ahead of time. Thank you for everything!
Regards,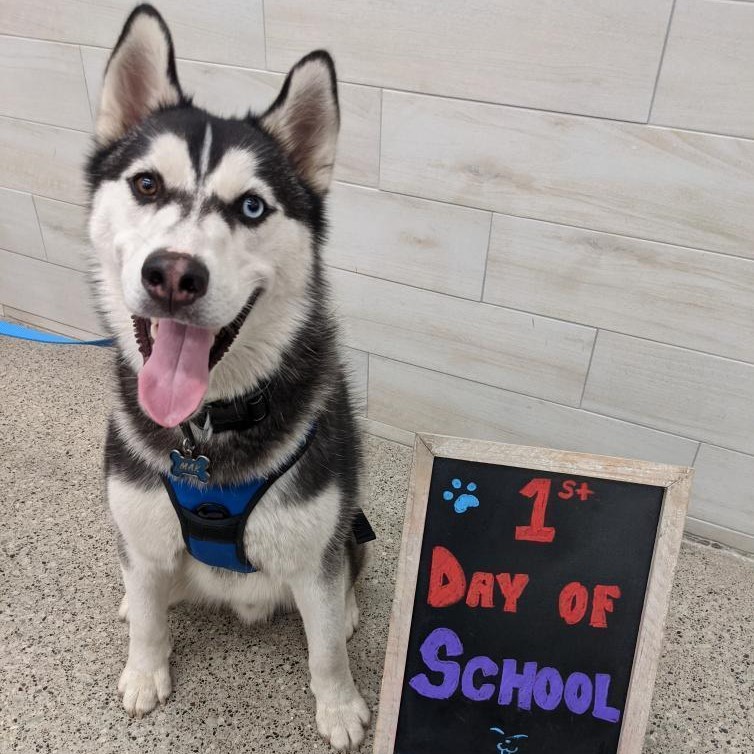 Mak
Hi OMHS!! Mak is doing great!! He's such a superstar 🥰 he has been so good & is learning so much from his big brother & sister. He's loving his walks & gets so excited when we get to the backside of the arena that's about a quarter mile from home– ZAMBONI SNOW MOUNTAINS!!
He did really well at his first day of class, although he wanted to meet everyone much more than learn. We finally got to hear his silly playful grumbles the last few days! He and Lu play for a few hours in the yard every morning- they're currently still napping from this morning's fun. We usually end up playing with his floppy frisbee or Kong alligator at some point in the day which gives us time to practice sharing, leaving it & bringing it back. He's even started to go in his crate on his own for some quiet lay down time here & there. We've had zero accidents in the house/crate!
I'm sure he is so thankful for all the work y'all did to find him his forever home! We'll never forget you & all you did for him. He is family
and
️ we love him dearly.
The Gillett Pack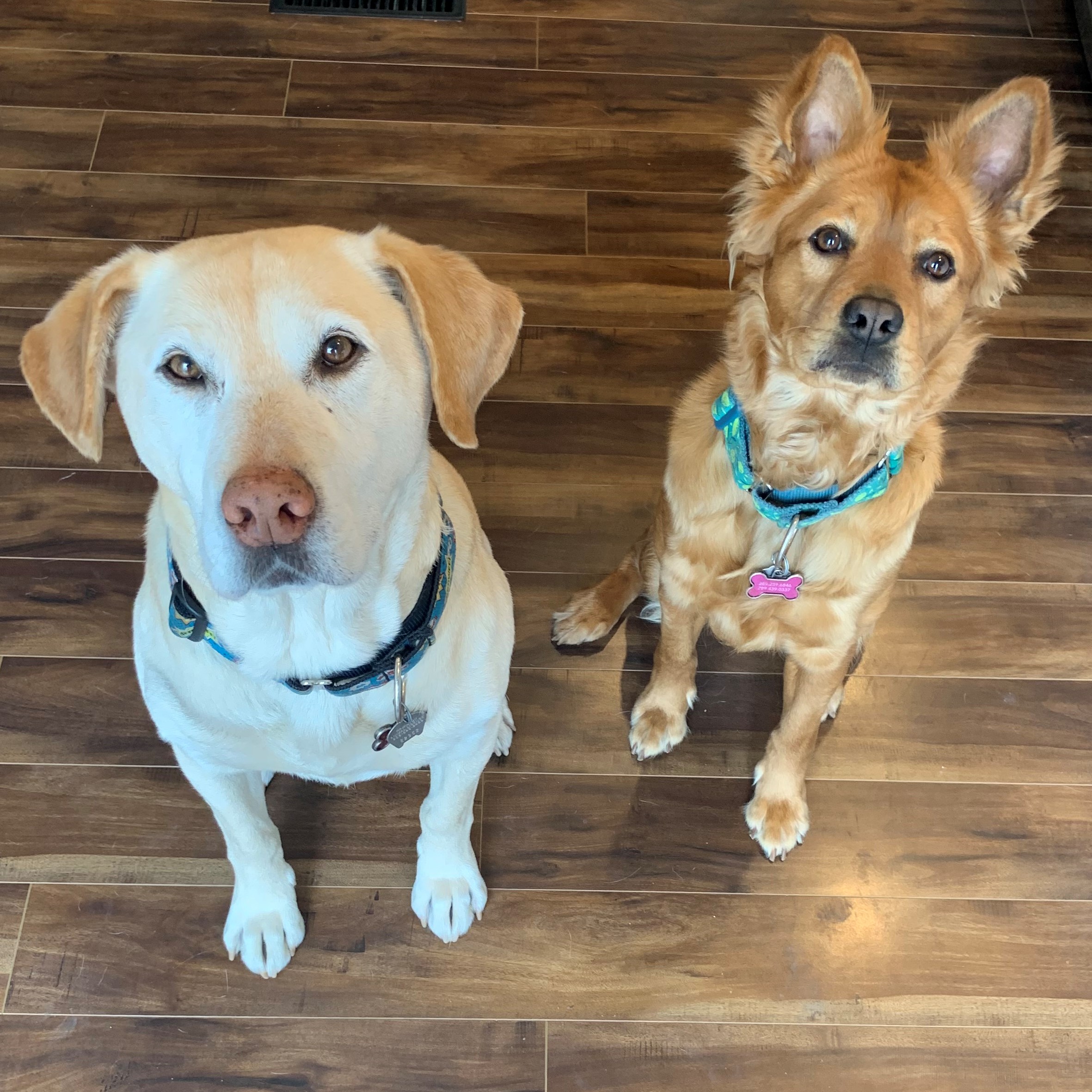 Barley & Lucille
Lucille first came to us at 8 weeks old as a foster puppy. She was just supposed to stay a few weeks before finding a forever home, but after she was diagnosed with a heart murmur, she needed to stay in foster care a little longer. After nearly a year of fostering, a number of vet appointments and a heart surgery, she was officially ready to be adopted and we just couldn't say goodbye. Lucille was our 6th foster with OMHS but she became our first foster fail this past February.
Lucille stole our dog Barley's heart from day one. Barley is an OMHS alumni too and was adopted in 2014 (previously named Molson). These two adore one another. They are regularly curled up together on one of the many dog beds in our house, playing with tug toys, wrestling and often will follow each other from room to room.
We can't thank OMHS enough for all that you were able to do for Lucille. After all of your team's hardwork, she is doing great and very happy. She is a playful and curious girl. She loves window watching, napping on the back of the couch (she's kinda cat like) and playing fetch in the yard with her favourite ball. Thank you to everyone at OMHS who not only helped us with Lucille but also matched us with our Barley. They're both a perfect fit for our home and couldn't imagine life without them!
Kayla & Graeme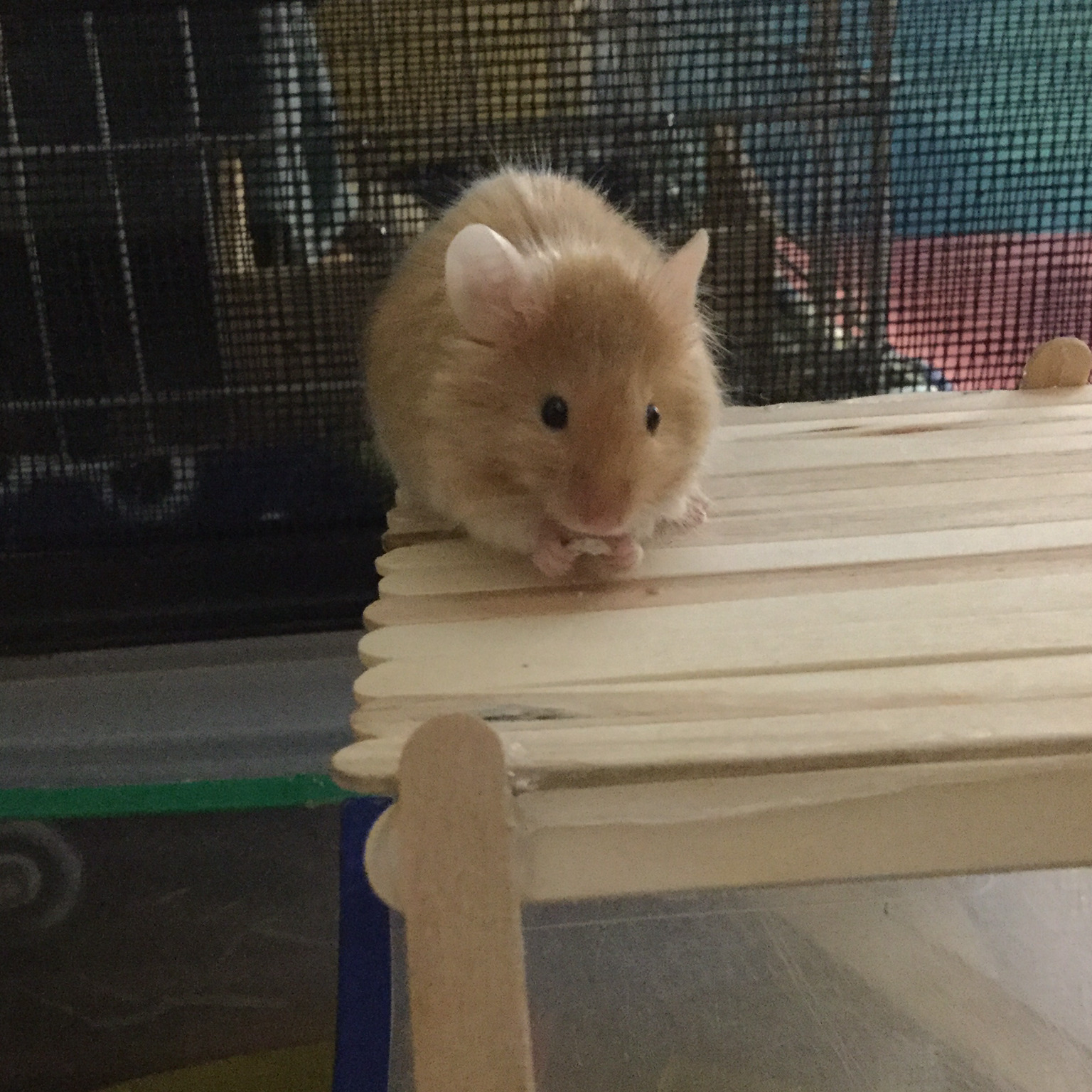 Oliver
Thank you for entrusting Oliver to our care. He
is doing amazingly well! He is already eating from our hands and loves to come out on top of his cage to play and run all
over our hands and up our arms. He is extremely curious and loves anything new, whether it be food or toys. He is very active and
we usually are able to have a play time with him a couple times a day. He is a wonderful addition to our family and we are all
enjoying him tremendously.
Thanks again for everything.
Laura, family, and Oliver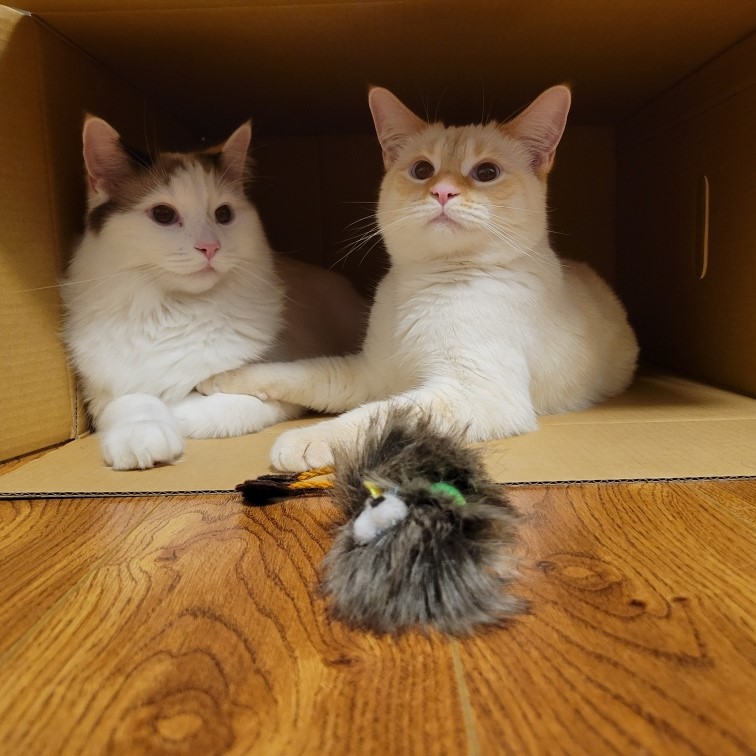 Freyja and Gwynevere
Freyja and Gwynevere came into our lives at 7 weeks old as fosters. They were adorable balls of fluff and looked like they stepped right out of a Royale toilet paper commercial. It was hard not to fall in love with them. Once they were ready to find their forever homes, it was clear to us that they already had. Danny and I decided to apply to make the two of them official members of our family and we are so glad we were able to. They make us laugh every day and have the funniest personalities. Freyja is the silly, adventurous one who can always be found up to no good, or goofing around with a toy. Gwynevere is a bit more distinguished and cuddly. She makes the perfect lap cat and always seeks out the coziest spots. We have to check under blankets and pillows before sitting down because there's always a chance she's curled up napping under something.
We are so appreciative to the staff at the Oakville & Milton Humane Society who supported us as foster parents, and later adopters. Everyone was so knowledgeable and gave us advice whenever it was needed. I'd say we did a pretty good job raising these two and we can't wait to spend many, many, many more years with them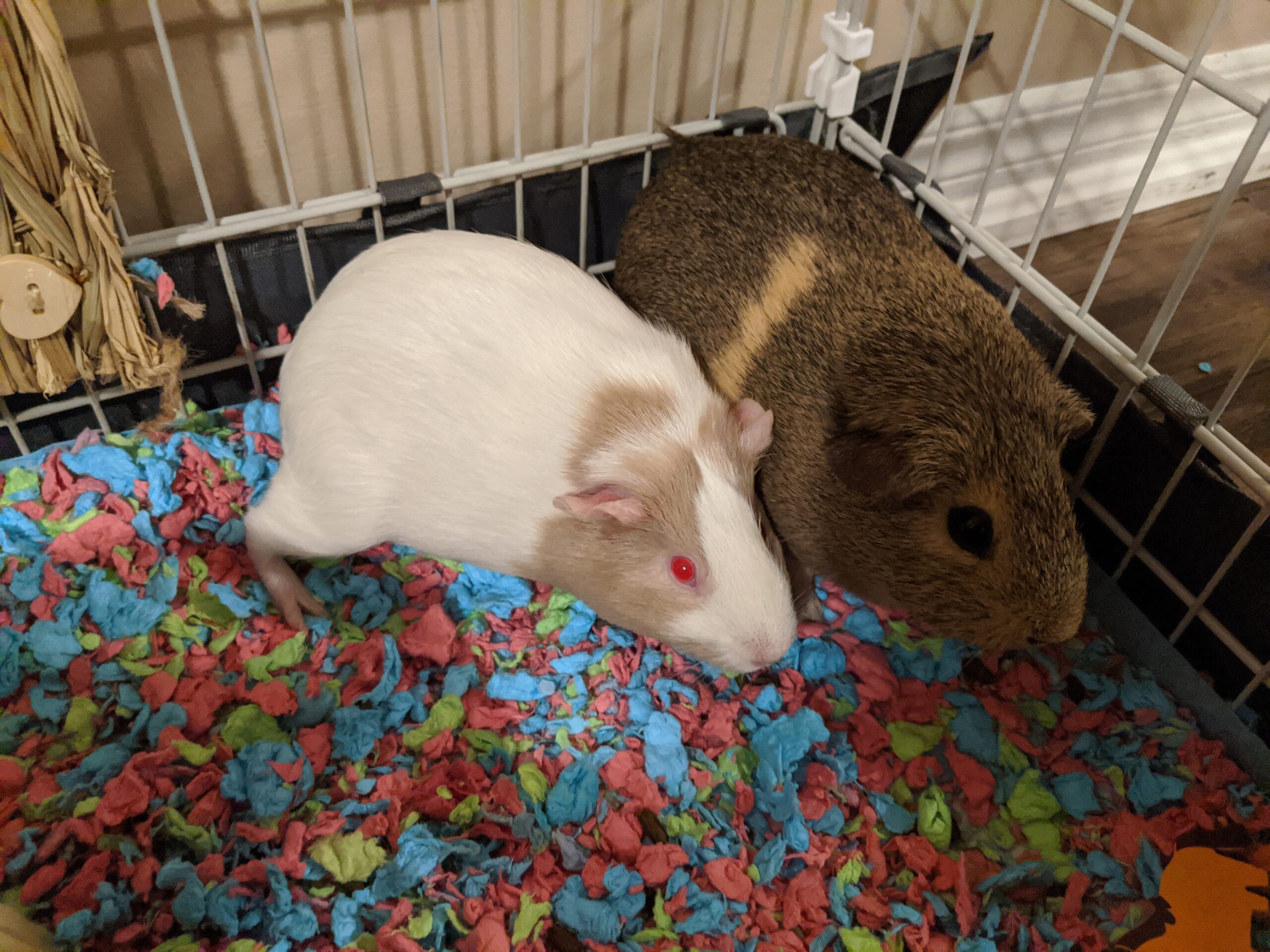 Clementine & Siggy
They are both super sweet and seem to be adjusting well. Clementine is more outgoing and she's getting pretty comfortable around us, while Siggy is really shy but we're starting to see her playful personality come out more. Sometimes they'll get bursts of energy and start running around their cage and pen and the way they play together is super cute. We're so happy we've adopted them, it's really nice to have them around making all their little noises. In regard to the adoption process, I found it straightforward and thought everyone was very friendly. I also thought the changes in light of covid were effective and didn't negatively affect the experience at all. Clementine! -Claire & Evan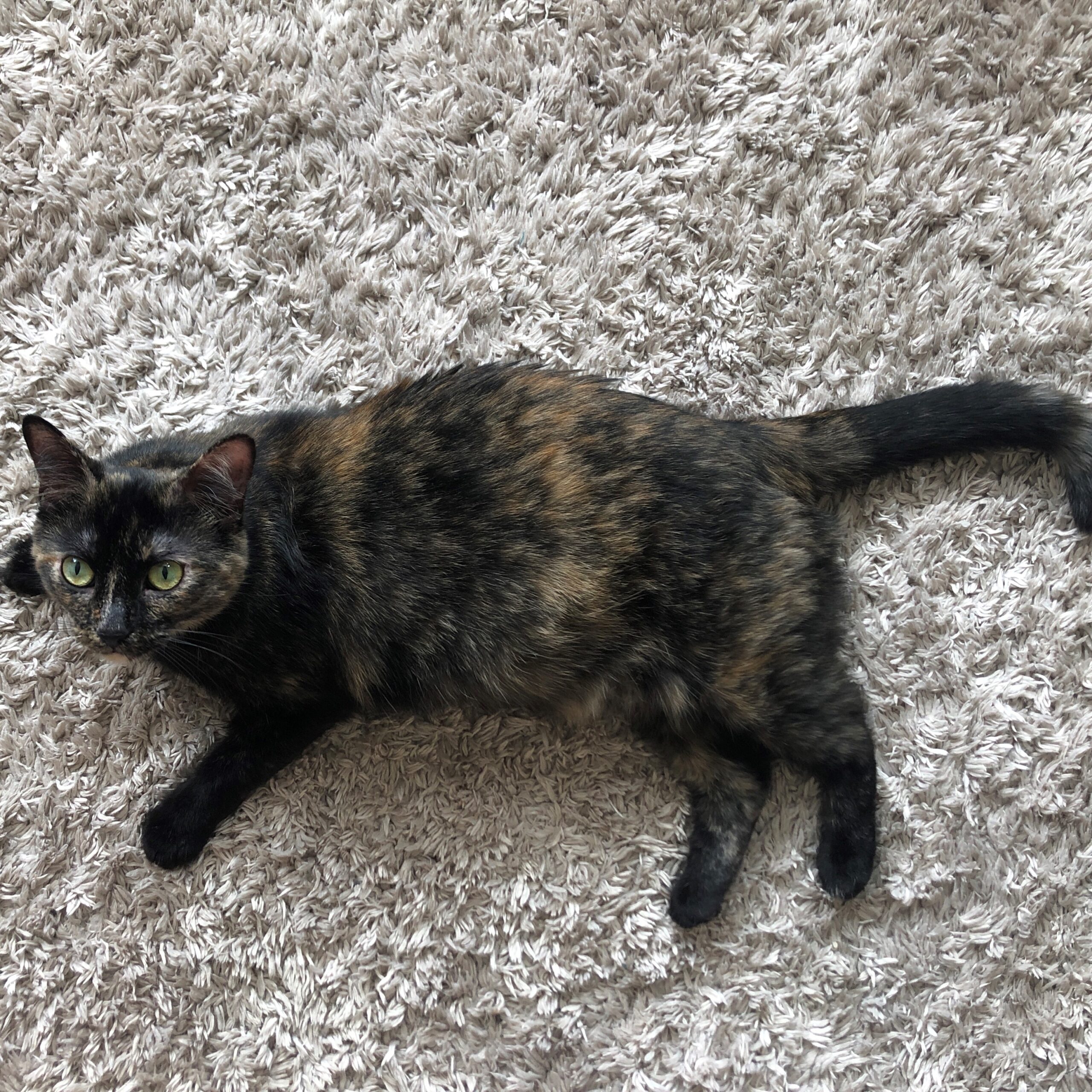 Moira
Moira is doing incredibly well! She confidently roams the apartment like she owns the place. We have learned that she loves to play with lasers! Her favourite game is to run up and down the hallway trying to catch the red dot. She is also an independant kitty and is very okay to hangout and play by herself. If I am working in my room I can usually hear the jingle of her toys in the other room- it's very cute! Moira is quite talkative kitty and any time we see her or say hello to her, she gives a quiet trill in response! She likes to make sure you know where she is and is always seeking pets and chin rubs. If we can't find Moira sitting at the window watching the birds fly by, she is usually curled up at the bottom of my bed taking an afternoon nap. Moira is an absolute joy and we feel very lucky to have her in our home. I would highly recommend anyone interested in adopting an animal to go to the Oakville shelter first. You were all so helpful and informative. We want to thank them for choosing Moira's name! We love it so much. It suits her well. We can't thank you enough for everything. -Kali, Ariel, and Moira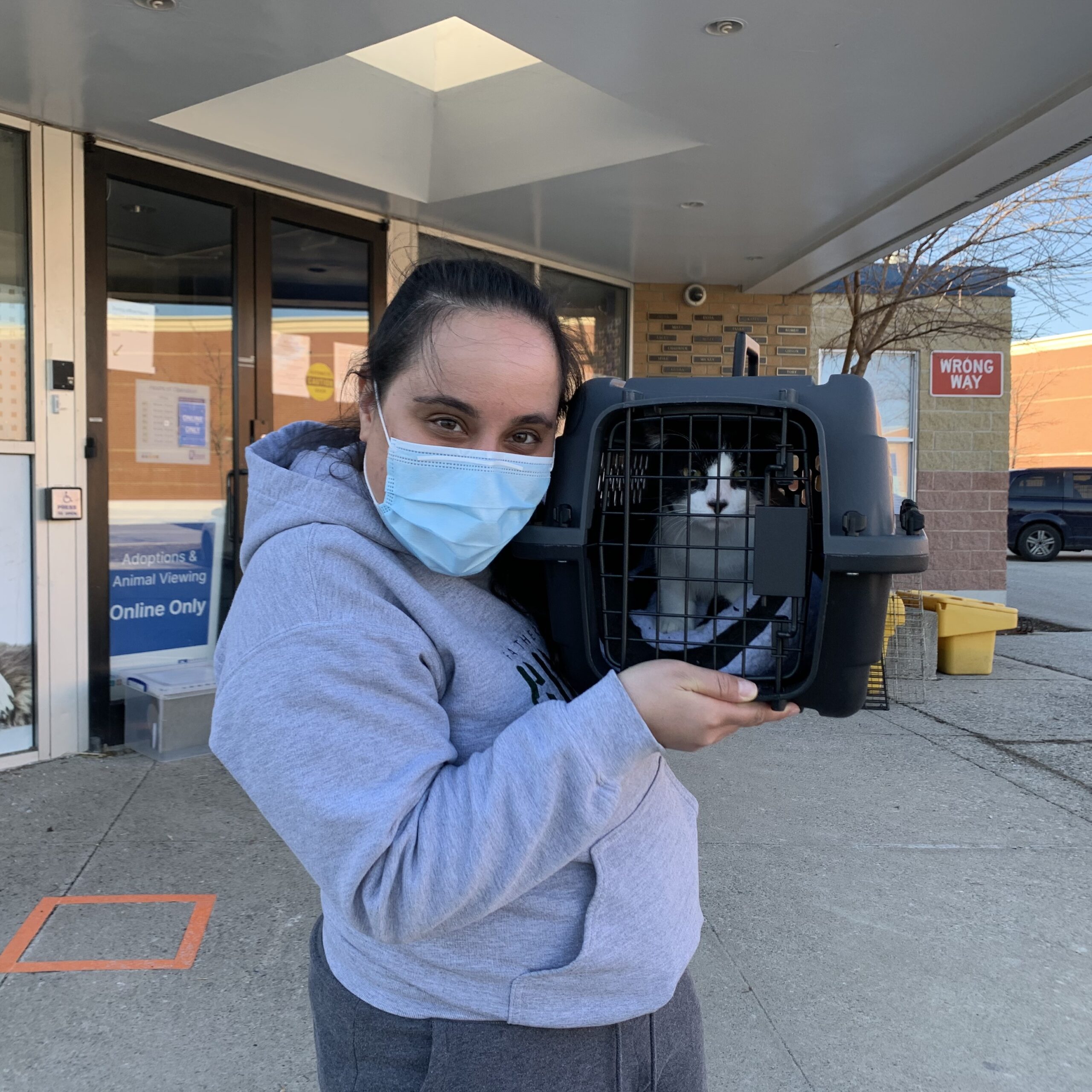 Roscoe
Roscoe is such a playful sweetheart!!! He has adjusted very well to his new forever home. Roscoe loooooves to play and run around. He also loves to cuddle up with me while I'm working. He is so cute when he follows me around the house. He is a curious and affectionate kitten. He is the sweetest boy and such a perfect match for what I was looking for! I found the entire process seamless. I appreciated the initial interview – that helped me to gauge a sense of his personality/fit. Very thorough and clean adoption process during this difficult time. Wonderful staff/volunteers – I really found each of you exceptionally helpful!!
The only thing that has surprised me is how hungry this little guy is! I purchased a slow feeder – that definitely slows him down, but he still eats his wet food very, very quick and loves to beg for food. Admittedly, it is mostly cute. Thank you so much for everything!!!- Jessica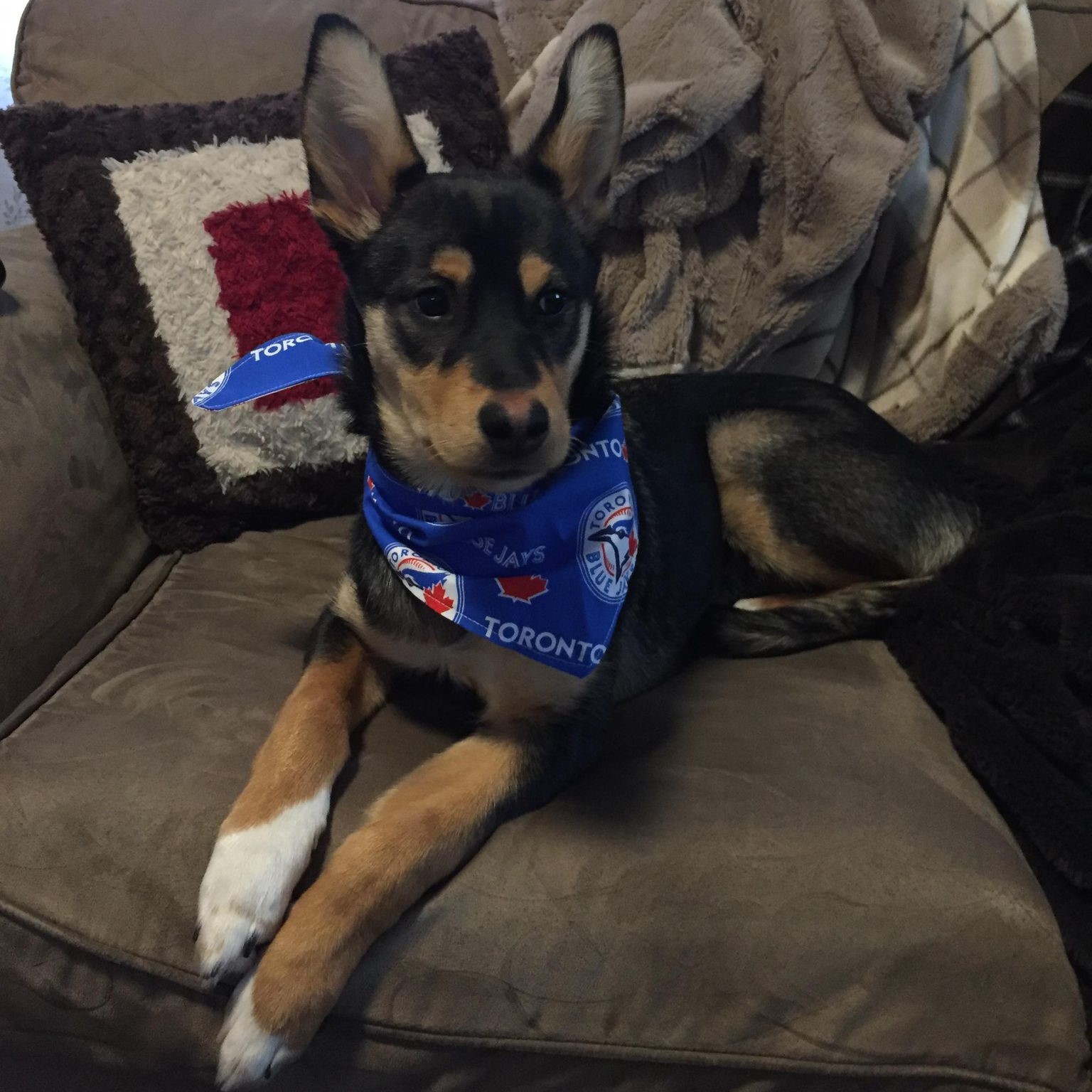 Lucy
Hi! Thought I would give you an update on how Lucy is doing with us. We have had Lucy just over 2 months now. We are so in love with her, and although we have only had her a short while, it feels like she's been with us forever. She is the perfect addition to our family. Lucy immediately made herself at home on the first night! She loves cuddles with both Drew and I (definitely a lap dog!) and playing outside in the backyard. She is so smart and has been doing very well with training. I think she is about 24 lbs now, growing every week. I can't believe how much bigger she is from when we got her; although its easy to compare size when she tries to sit in our laps LOL. We are so glad to have brought Lucy home, and we can't imagine how we ever lived without her. Thanks for choosing us to be her forever family!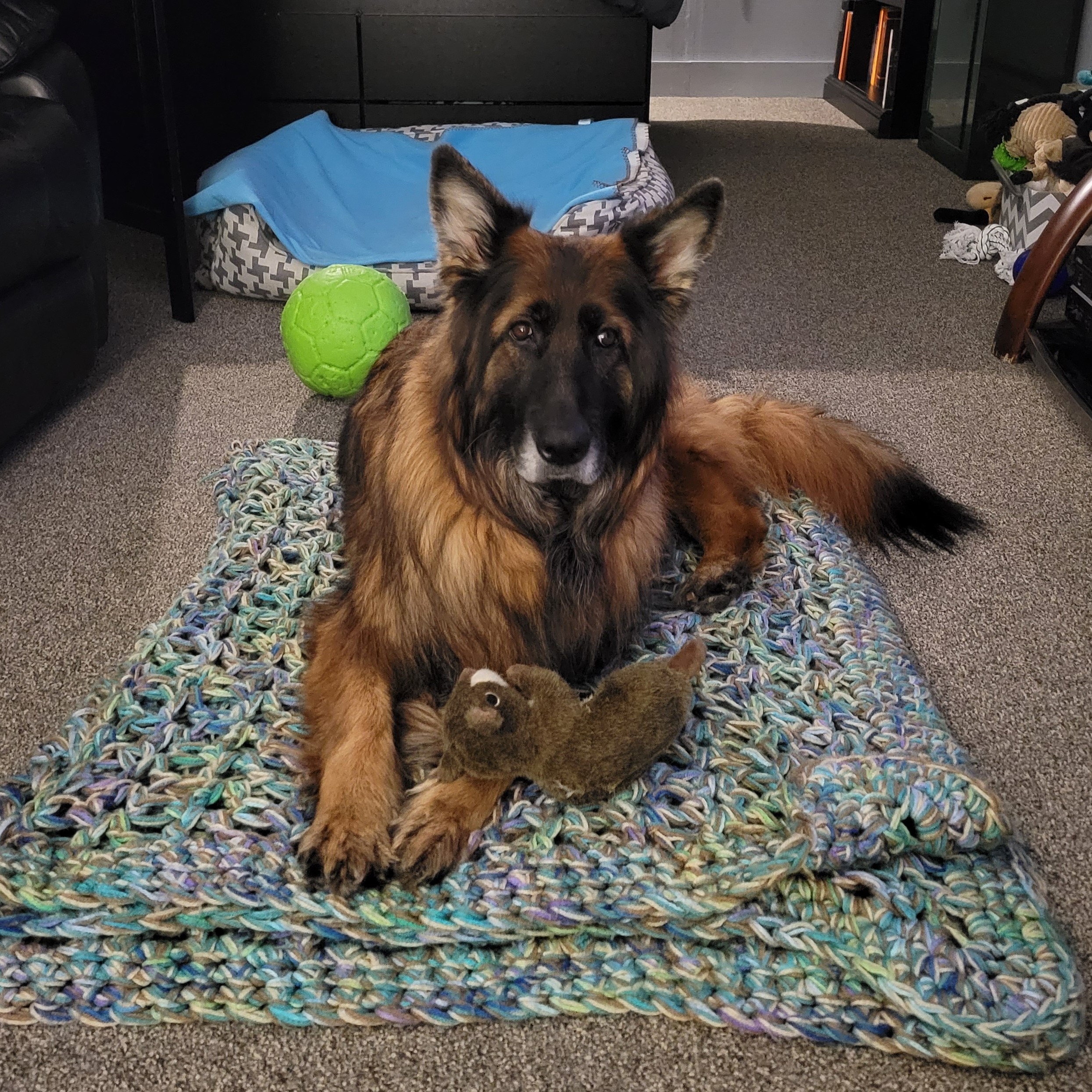 Rayne
As promised, I wanted to send you an update we received on
Rayne
. No issues on the way home.
Rayne
actually travels quite well.She had no problems in our house. She has energy! She went into each room and splattered all the toys everywhere! We were laughing our heads off. She doesn't know which toy she wants. I have ordered a new Jolly-ball and some other toys and Kongs to help her teeth, etc. She ate no problem and took her evening meds without issue. She explored the whole house and jumped on all the furniture. She's having a touch of difficulty with where to go -downstairs with us or upstairs with my Mother. She prefers the whole family in one room. Hopefully she sleeps with us tonight. All in all, so far so good. Just wanted to let you know she's safe and sound. -Jon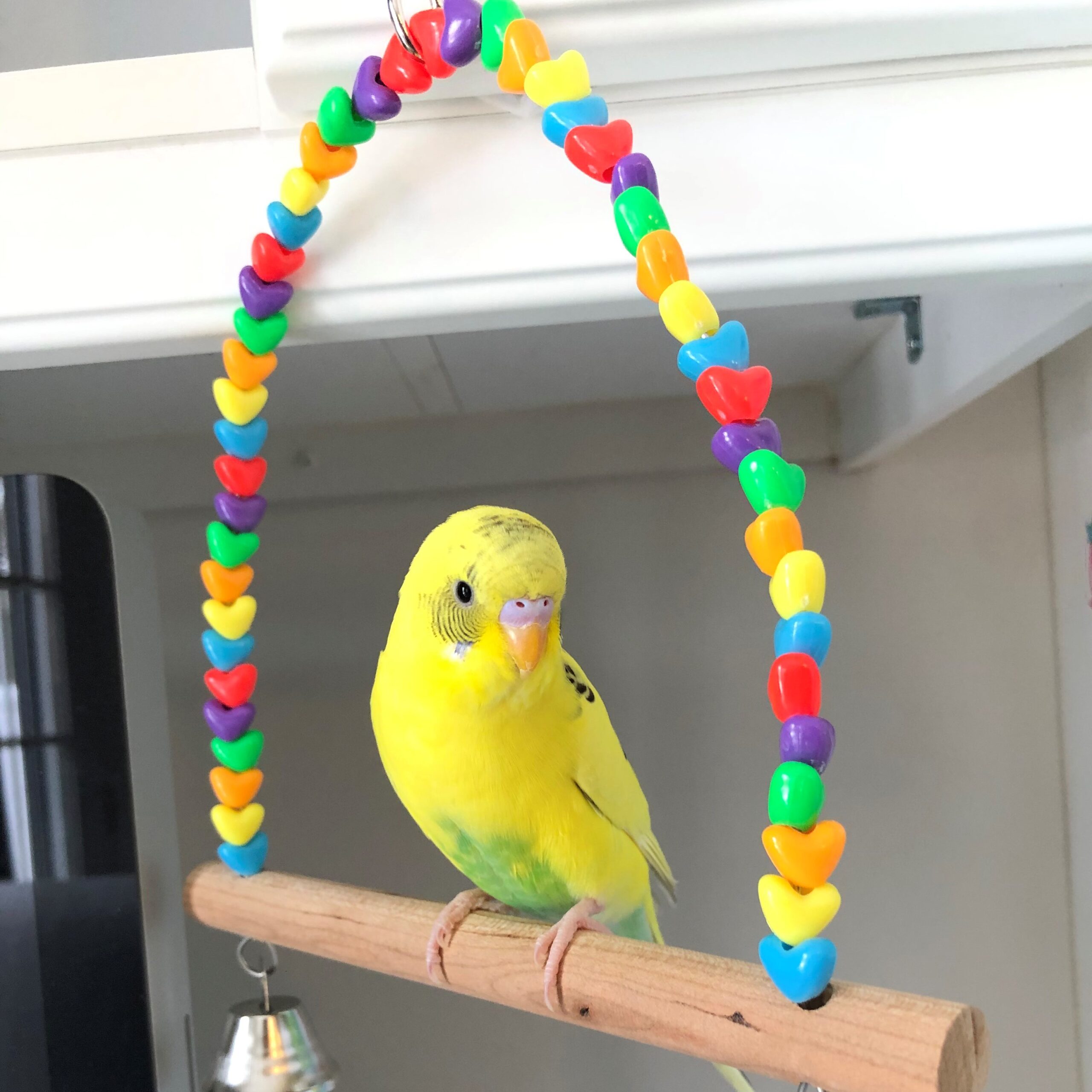 Mini
Mini is doing great. She currently is in a smallish cage but will be getting a larger cage this week. We felt that she needed a home that wasn't overwhelming where she felt safe to get use to us and her new surroundings. The first couple of days she was very timid and really didn't want us putting our hands in her cage but would enjoy us petting her through the wire. We spent time just resting our hand in her cage but not near her so that she would get use to us. Now 8 days later she is happy to step up onto our finger with zero hesitation. Yesterday we let her out of her cage for an hour and had no problem taking her out or getting her back in. She's a cheerful little bird who likes to chatter away to herself….although we had a couple of days where we thought she had multiply personalities as she sounded like she was having full blown arguments with herself (she's good now). We spend a lot of time singing and talking softly to her and she seems to like and respond well to that. We also have her cage in the family room/kitchen. Most of the time her cage is on the end table but when it's quiet during the day I do move her so that she can see and get use to the whole main floor. She certainly is a sweet little bird and we are very thankful to you and her foster family.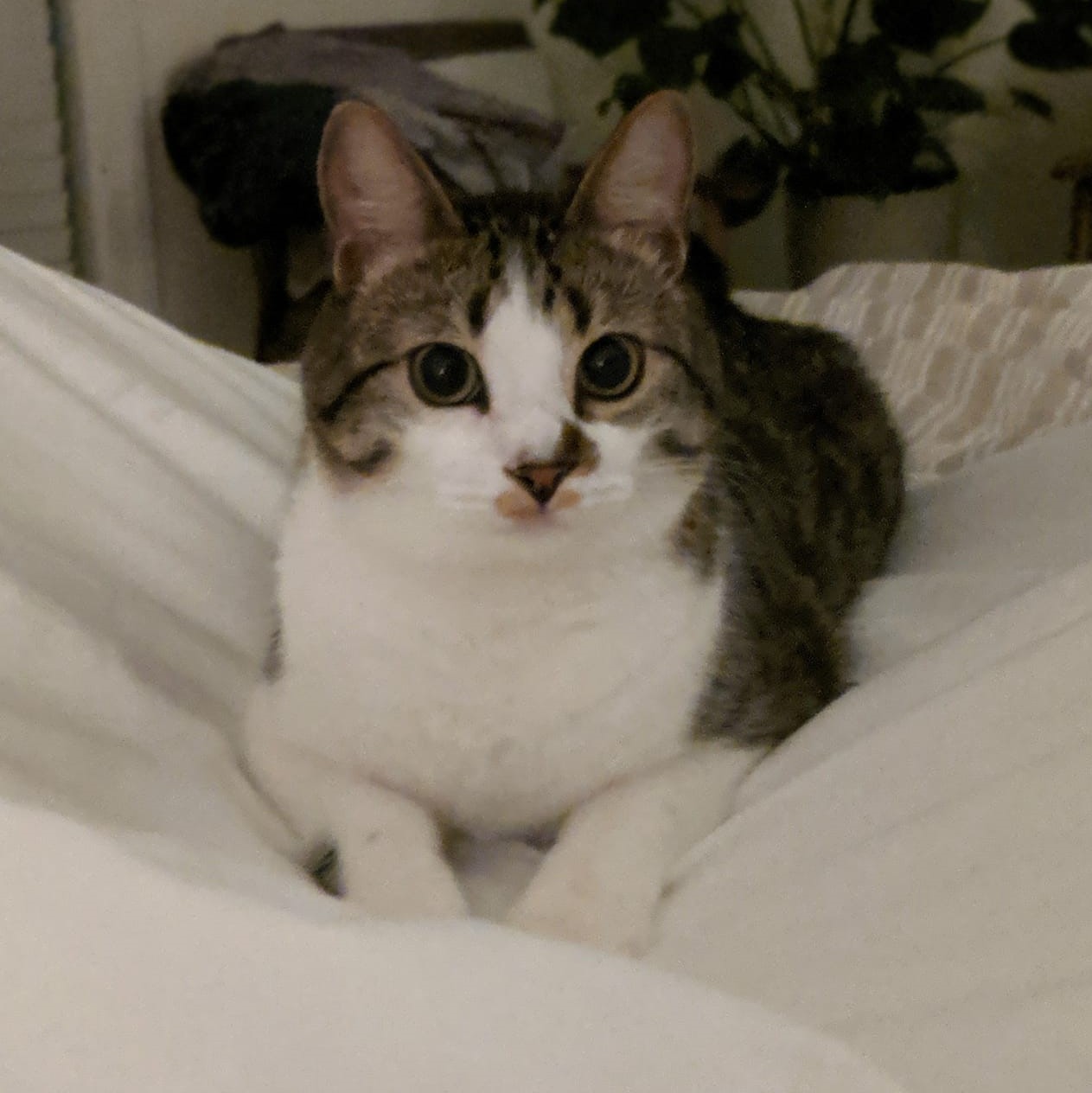 Tyler
We adopted Ty from OMHS a few years ago and just adore this quirky, lovable little guy. He has brought us all endless hours of amusement and he is so loving and sweet. He still wakes up ridiculously early and gets very noisy and loud around dinner time but we wouldn't have it any other way. Thank you for all that you do and thank you for giving us Tyler, he has made our family whole.