The Charlie Fund, of the Oakville & Milton Humane Society, provides emergency and specialized veterinary care to homeless animals in the care of our shelter. The Charlie Fund saves animals hit by cars, caught in traps, abused or neglected, or needing life-changing treatments and surgeries.
The Charlie Fund began in 1985 when a Border Collie came into the OMHS, with a leg too badly damaged to save. A fundraising campaign was needed to raise money for the necessary surgery.
"Charlie" recovered and was adopted by a wonderful family and he lived a long and happy life. The need for "emergency medical funds" lived on and a fundraising campaign was started Over the last 28 years, this special fund has grown from saving a few animals a year to more than 100 annually.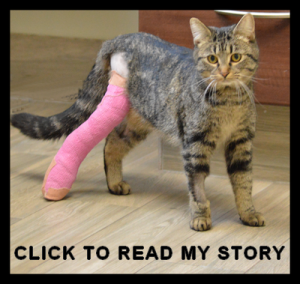 The Charlie Fund is possible only because of donations. Your gift makes it possible to provide the emergency or specialized treatment of the neediest animals at the Oakville & Milton Humane Society, so they may recover and find their forever homes!
The Charlie Fund Endowment
Our stalwart and generous supporters Ken and Alayne Christie believed in the Charlie Fund since its inception. As time went on, they realized that they wanted to make a more lasting contribution. In 2004, they started an Endowment Fund for the Charlie Fund. The principle amount is invested and the annual interest gained is used to help the animals.
The Endowment Fund is a wonderful legacy of Ken and Alayne's commitment to help animals in need of critical care. The OMHS is grateful for their vision and support.
Donations may be made to the Endowment Fund at any time, and supporters are encouraged to consider a gift to the Endowment Fund in their wills.
Your gift will help ensure that ill and injured homeless animals will be cared for in future years so they may recover and find their forever homes!
To mail a donation to the Charlie Fund or the Charlie Fund Endowment, please send your cheque to the address below, indicating Charlie Fund or Charlie Fund Endowment in the memo line:
Oakville & Milton Humane Society,
445 Cornwall Road,
Oakville, ON L6J 7S8.