A Final Resting Place for Your Best Friends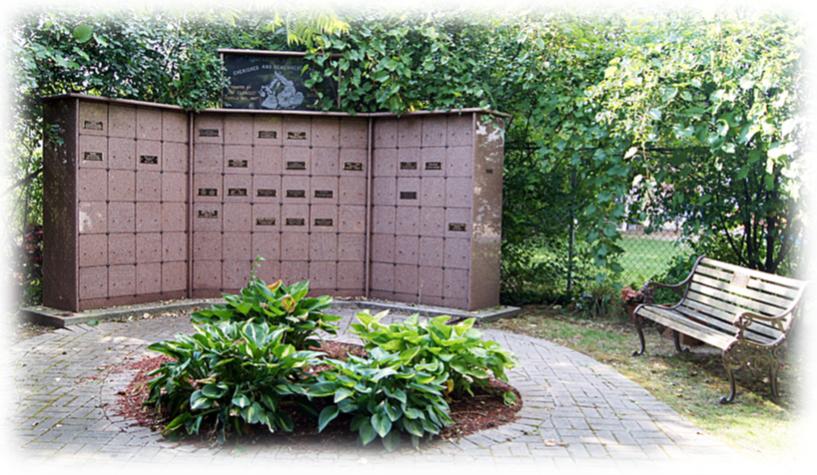 The loss of a pet is the loss of a best friend. You may want to consider a final resting place  for your pet or pets you may have in the future. The Oakville & Milton Humane Society Columbarium was designed and built to be a peaceful, respectful monument to the place our pets hold in our hearts.
A niche in the OMHS Columbarium will hold six small urns, four large urns, or combinations of both, giving you the peace of mind that comes from knowing they will be together…forever.
Each niche features a granite front with an individually engraved bronze scroll with your personal message of remembrance. Beautifully landscaped, with comfortable benches where you may sit in peace with the memories of your beloved pets, the Columbarium garden is an oasis of calm in our busy world.
When the time comes to place your pet in the Columbarium, OMHS staff will make arrangements to open your niche, giving you time for a short service or time of remembrance, closing the niche at your convenience.
The Oakville & Milton Humane Society Columbarium, a monument to the everlasting love we share with our cherished pets.
There are no maintenance fees for the Columbarium, only a small fee for future interment.
Memorial plaques without a niche are available to mark your pet's place in your heart. These are showcased on the side of the Columbarium.
Pricing
Individual niche with plaque………$1,000.00
Future niche interments………….$35.00
Memorial plaque only………………$500.00
Note: Prices do not include individual cremation.
You may visit the Columbarium at any time. To book a visit to see the niches, for more information or to book a present or future niche, please call us at 905-845-1551. We thank you for trusting us with your beloved pets.