APPOINTMENT-ONLY ACCESS TO THE SHELTER DUE TO COVID-19. If you believe an animal is sick or injured call 905-845-1551.
The animals need your help, now more than ever!
We are excited to celebrate and acknowledge the amazing work of our volunteers and community partners with our Awards Program. Whether doing administrative tasks, working with the animals, or out engaging the community they are all heroes. Nominate a volunteer, youth, foster family, or organization in one of six categories by May 21.
The Mission launches May 31st! Do you enjoy taking walks with your best friend? Have a special birthday, anniversary, or pet adoption celebration coming up? Are you a business owner or manager with an affinity for furry, fluffy or feathered friends? Join the Mission. Learn more.
We just love hearing from our alumni! If you have a "Happy Tails" story you would like posted about your pet(s) please email us your update and photos to: happytails@omhs.ca. For the latest stories please click here.
Building relationships with our community of veterinarians is important to OMHS, so we are thrilled to announce two new clinic partners this month. These partnerships will enable us to provide needed surgeries and physical rehabilitation for the animals. Learn more.
A dog licence is your best insurance for the safe and quick return of your family member. It also makes your dog instantly identifiable to anyone who may come across your pet and helps avoid the daily boarding charge. Best of all, a lost licensed dog will likely be at the shelter for just hours, not days. Learn more.
Walter and Inge Husemann's spent a lifetime caring for the animals, and thanks to the couple's compassionate gift in their Will, their work to make the lives of animals better still continues today. By leaving a gift in your Will, you have the power to change the lives of homeless, and abused animals who will depend on the OMHS to rescue them in the future. Learn more
here.
Nail Trims
Do you have a cat, rabbit or guinea pig in need of a nail trim? Book an appointment with us today. We also do nail caps for cats!
lost & found
We are dedicated to helping lost pets be reunited with their families. If you have lost or found a pet it is important that you report it to us right away.
dog licences
All dogs must be licensed in the Town of Oakville. Licences are valid for 12 months from the date of purchase and not specific to a calendar year.
OMHS has established the Pet Food Bank to provide pet food and supplies to those individual pet owners who are facing economic hardship through a network of established partner agencies and food banks to address this important need in our community. Learn more.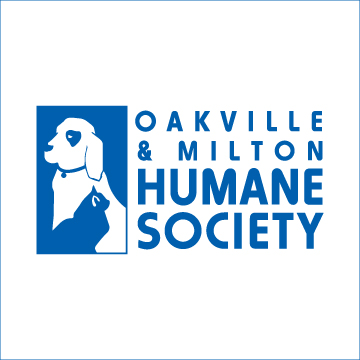 With COVID-19 cases continuing to rise, a declaration of emergency and province-wide stay-at-home order went into effect on April 8. The declaration will be evaluated after 28 days to determine if it is safe to lift the restrictions, or if they need to be extended. For more information.
This past Valentine's Day, Order of Canada recipient Dr. Anne Innis Dagg, captivated audience members who tuned in to meet her, learn more and ask questions about her incredible journey. We were joined by a broad range of participants from curious student to foremost...