The OMHS Pet Food Bank
We understand that pets are not just like family, they ARE family. Our Pet Food Bank provides pet food and supplies through a network of established community programs and food banks in Oakville and Milton. Our team of volunteers pick up donations and package and deliver them to our food bank partners. If you are interested in receiving pet food, please contact one of the partners listed below. We are thankful to our community and corporate suppliers for donations to keep people and pets together.
How Much to Feed Your Dog
Here is a helpful guide on how much you should be feeding your dog.

How Much to Feed Your Cat
Here is a helpful guide on how much you should be feeding your cat.

Changing Your Pets Food
Every pet is unique, but there are some general guidelines to follow when changing your pet's food. Here is a helpful guide on how to slowly transition your cat or dog to his/her new diet.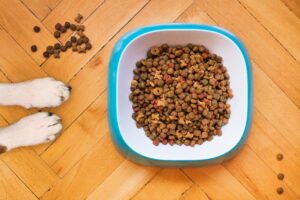 Want to become a Partner?
If you are an organization that provides food programming in Oakville or Milton, consider joining our network. You can download our Food Bank information guide for more information.
Please complete the inquiry and preliminary order forms and email to foodbank@omhs.ca. We will be in contact with you once received. You may also call us at 905-845-1551 x 127 if you would like to discuss the program before completing the forms.
If you are located outside of Oakville or Milton Please contact foodbank@omhs.ca with your inquiry.
How Can You Help?
A financial donation provides us with the greatest flexibility to obtain exactly what food and other items we need, and enables us to maximize our purchasing power by taking advantage of shelter discounts and bulk buying. Click here to donate now.
If you would prefer to purchase or donate in-kind items, our current needs are:
Canned cat food
Caned dog food
Puppy pee pads
Donations can be placed in the donation bin at the front of our shelter. Please make sure to indicate that your donation is for the Pet Food Bank by writing FOOD BANK on the donation. Please note, any food or products donated to the OMHS Pet Food Bank cannot have expired or be opened.
Volunteer
The OMHS Pet Food Bank is volunteer run. Any open positions will be listed here.
Have you recently lost your home?
If you have recently become homeless and are looking for temporary care for your pet(s), please check our Families In Transition program.
Additional Information about the Program
We do our best to provide the desired products. If a specific product is not available, a suitable product may be substituted. The OMHS Pet Food Bank is run on a donation basis, therefore we cannot guarantee specific products are available at all times.
How to determine quantities of food needed:
For easy storage, pet food is delivered in 23"x13"x16" bins.
Each bin contains an average of 12 x 1kg bags
On average:
A medium sized dog (25-45 lbs) will use 1 bag per week.

An adult cat will use 1 bag every 2 weeks.
Contact Us
Please contact us:
Email: foodbank@omhs.ca
Phone: 905-845-1551 ext. 127
Fax: 905-845-1973
Address: 445 Cornwall Road, Oakville, ON L6J 7S8