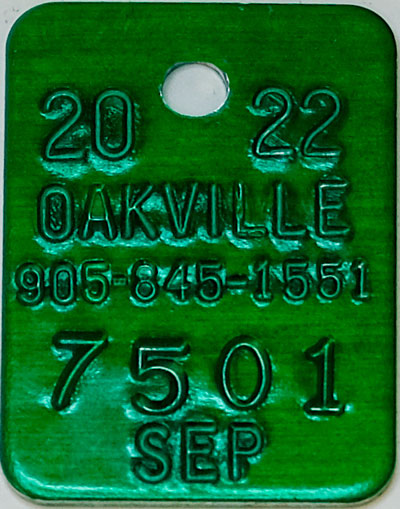 Town of Oakville Dog Licences

All dogs must be licensed in the Town of Oakville. Licences are valid for 12 months from the date of purchase, not specific to a calendar year and must be renewed annually before expiration. Renewal dates will not be reset on late purchases.
Licences may be purchased at the Oakville & Milton Humane Society and Town Hall. Information about fees and payment methods is available on the licence application form linked below.
Please note, only licenses purchased online by clicking "Purchase Licence" below will receive the $20 Ren's in-store voucher.
Town of Milton Dog Licenses
The Town of Milton is responsible for dog licences in Milton. Please click the button at the top of the page for more information or to purchase.
Dog Licence prices
Please note, 2023 dog licences are subject to a price increase, effective January 1, 2023.
| | |
| --- | --- |
| | 2023 |
| Spayed/Neutered | $34 |
| NOT Spayed/Neutered | $66 |
| Senior's Discount (65 and above) | 50% off of original price |
Get $20.00 Free!
The Oakville & Milton Humane Society and Ren's Pets want dog owners to apply for, and renew their annual dog licences online.
Ren's Pets will provide a $20.00 in-store voucher to anyone licensing their dog through our online program. The voucher will be mailed out along with the new licence tag.
The Benefits of Licensing Your Pet
Dog licences offer cheap insurance for the safe return of your dog should he or she become lost. Dog owners like to believe that their dog will never go missing, but chances are that your dog will wander off at some point in his or her life.
A licence on your dog's collar is the fastest way to contact you when your dog is lost.
A licence is immediately visible to anyone who finds your dog and shows that your dog is not homeless. Members of the public are more likely to approach a licensed dog – helping to ensure your pet is brought to a safe environment more quickly.
Licensed dogs have a higher chance of getting home compared to unlicensed dogs.
Licenses are cost effective as a staff member will contact you immediately, to prevent boarding fees from adding up.
A licence means your dog will spend less time in the shelter, reducing the stress he or she may experience.
A licence allows the staff to contact you in case of emergency in order for you to make vital decisions regarding the care of your pet 24 hours a day 365 days of the year.
Town of Oakville By-Law Enforcement
The Town of Oakville has contracted the Oakville & Milton Humane Society to enforce a variety of local animal by-laws and provide animal control services within the Oakville community, including dog licensing.