On June 22, eighteen adorable humans from our community embarked on a mission that had them trading places with the adoptable animals at the Oakville & Milton Humane Society for the afternoon. Centre Court in Oakville Place was transformed into a makeshift kennel for Mission Pawsible and each adorable human was responsible for raising a minimum of $1,000, their adoption fee, so they could be adopted back into their forever home.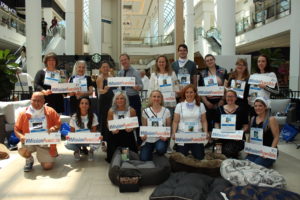 These adorable humans were not alone on this mission. Providing encouragement for their efforts was Jack Peets from 102.9 K-Lite FM who provided radio support throughout most of their mission. You will notice from the photos that Jack really got into the spirit by taking a cat-nap on the dog beds in the kennel.
Each hour, our adorable humans were let out of the kennel for Enrichment Activities and socialization (just like the animals staying with us at the Shelter right now!) with our volunteer Enrichment Coordinator, Karrah. All of our adorable humans were showing their competitive side during these activities and in the end, one of our adorable humans walked away with a great prize.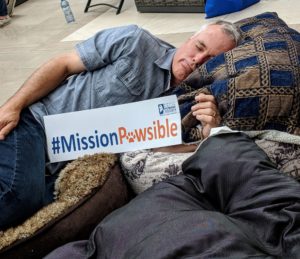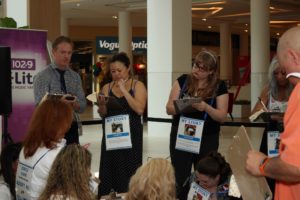 Many children and adults passing through the mall joined us to visit with our amazing Ambassador dogs Parker, Taylor and Annie and their owners, Heather, Stewart and Monica. These beautiful dogs spent the afternoon greeting the community with love and licks! Our face painter Sephanna transformed some our adorable humans, as well as the children passing by, into real-like animals.
By the end of the event, all of our adorable humans were able to return to their forever home as a result of their hard work.
Thank you to Oakville Place for hosting us. Thank you to our Presenting Sponsor, PetSmart and to our two hour sponsors, Bone & Biscuit Oakville and Oak-land Ford Lincoln for their financial support of this event. Thank you to the community, our volunteers and our adorable humans for showing your support for the Oakville & Milton Humane Society. It's because of you that the animals at the Shelter will continue to receive top-notch care during their stay with us.