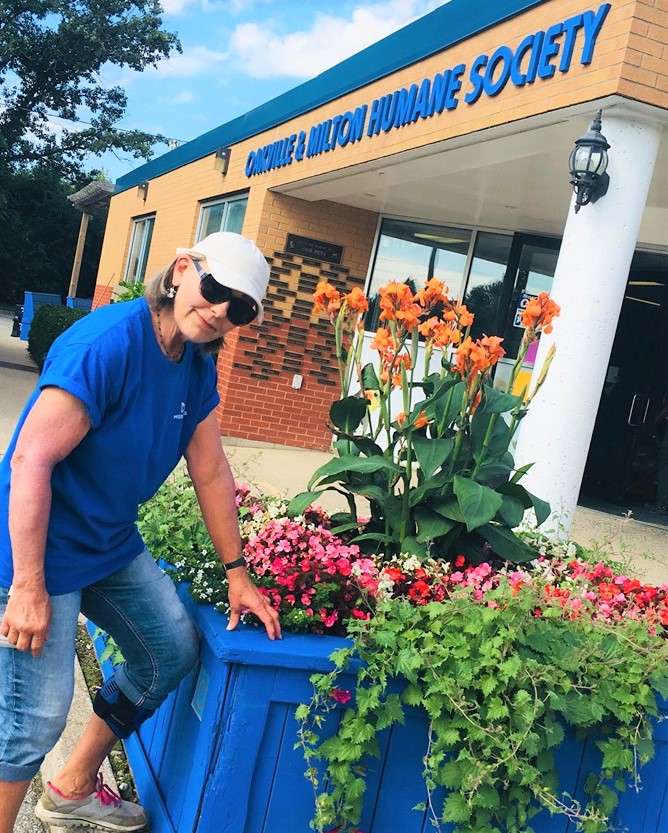 The next time you visit OMHS and marvel at how beautiful and colourful the grounds are, you can thank Susan Eglit. A professional horticulturist, she's been donating her time throughout the spring and summer months to tend to our gardens and create stunning flower arrangements. She even ensures all the plants she chooses to grow are safe for the animals at the shelter.
Last year Susan was looking for ways to donate her time to help our animals, but because she was still working full-time, couldn't make it work with her busy schedule.
"So, a friend suggested I ask the shelter if they could use a gardener. That is when I met Jackie [Jackie MacKenzie Volunteer Coordinator], who coincidentally was looking for someone to do work around the outside of the facility. The timing was perfect," recalls Susan.
At the shelter, Susan now combines her passion for helping animals in need with her love of gardening two to three times a week. "Although I'm not working directly with the animals, I am helping create a more welcoming exterior. This I hope will encourage more people to visit the shelter and result in more animals finding their forever homes."
In addition to planting, weeding, edging, pruning and elevating trees at 445 Cornwall Rd., Susan creates fabulous seasonal arrangements for fall, Christmas and Easter.
"My motivation for volunteering comes from my continued love of working outside, being able to see the animals and chat with the wonderful dog walkers. Also, the compliments I have received from OMHS staff, volunteers and people visiting the shelter has been overwhelming. This tells me that my work is making a difference and is greatly appreciated."
Susan is one of approximately 430 OMHS volunteers who are absolutely essential in helping us accomplish our mission to protect and make life better for animals. In Susan's case, she is creating a plant paradise for our animals, public and staff. To learn more on how you can make a difference, visit our
volunteer
page.