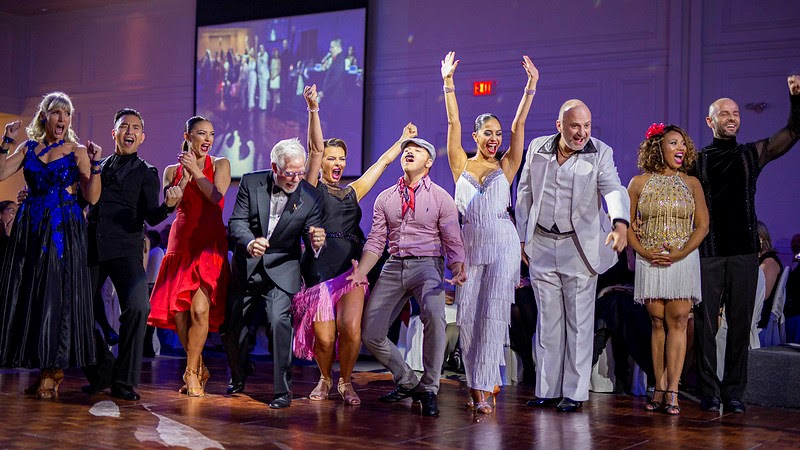 After months of preparation and anticipation, our five Stars took to the floor of the Oakville Conference Centre on November 6th and wowed the audience. Performance after performance, the stars and their professional partners demonstrated that they were in it to win it!
After a delicious meal and some competitive bidding on the fantastic silent auction items, the dance competition began. Our three judges, Richard Thibault, Tanya Turschic-Carbone and Ron MacLean each provided their own dose of thoughtful commentary and personal witticisms. While each dance couple gave it their all, there could only be one winner of the Crystal Star trophy. That winner was Lana Hockey and her partner, Jone Lam (pictured below). Lana was also our top fundraiser with an incredible total of $21,050 raised. We've posted some fun pics of the evening here.
The real winners, of course, are the animals that need the help of the Oakville & Milton Humane Society. Thanks to the support of our event committee, chaired by Cari MacLean, our sponsors: Royal Canin, Virox Technologies, Ren's Pets, P3 Veterinary Partners and Starshot Marketing; our dedicated community stars: Lana Hockey, Oliver Matas, Clayton Shold, Elissa Lansdell and Che Marville, and everyone who purchased a ticket, the inaugural Prancing with the Stars event raised an incredible $143,000. These funds will go to care for more than 3,000 domestic animals and wildlife who need the love and compassion of OMHS each year.
We are already planning for Prancing with the Stars 2.0. Mark your calendars for Thursday November 5, 2020. If you or someone you know is interested in strutting your stuff on the dance floor, send us a note to events@omhs.ca and we will be in touch. Thank you for your support!