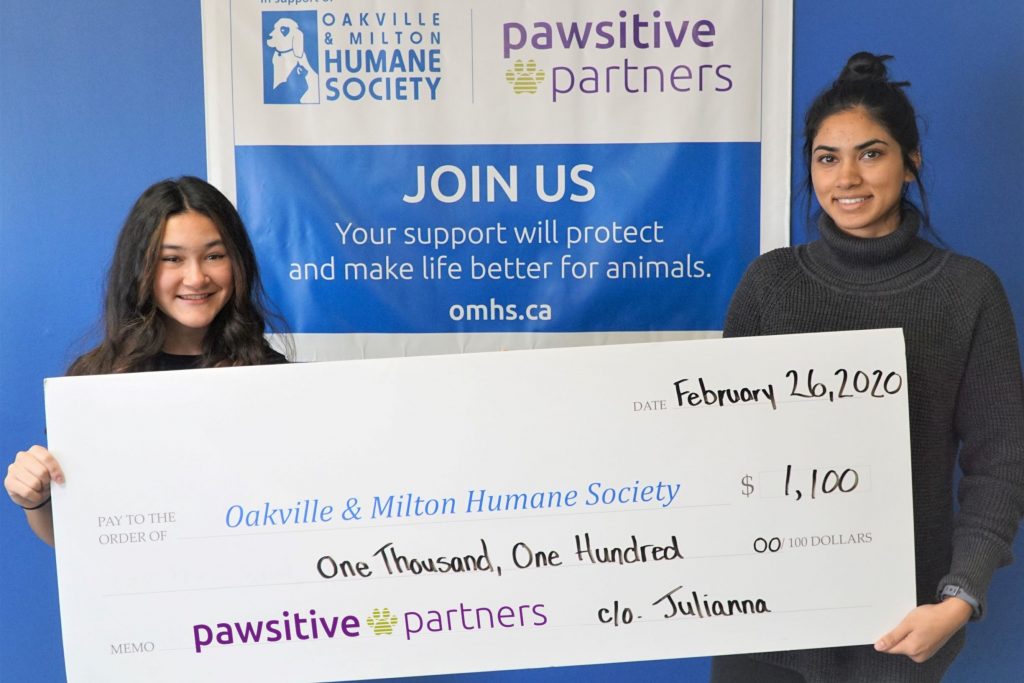 Sixteen-year-old Julianna Dick loves animals – especially dogs. It's for this reason, that for the past five years, Julianna and her team have been baking and selling cupcakes to support the animals at the Oakville & Milton Humane Society (OMHS). Mom, Eva Chan, bakes the cupcakes from scratch, Julianna decorates, and dad, John, helps with promotion and delivery.
"I hope by raising money, it will help as many animals as possible in finding their forever homes. I also want to raise awareness about how people can adopt a pet, or maybe even volunteer to help out" says Julianna. This year's cupcake efforts were dedicated to Chester, Julianna's beloved dog who passed away in December.
New this year are tools and resources that Julianna was able to use to help support her cupcake sales. Pawsitive Partners, a new program recently launched by OMHS, was developed specifically to support community groups, businesses and individuals like Julianna, in their fundraising efforts. Pawsitive Partners resources include items such as a fundraising guidebook, banners, table-top signs, stickers, editable print at home posters and even a birthday celebration kit created especially for children. Julianna is one of the first community fundraisers to use the new Pawsitive Partners items. Asked what she thought of the new resources, Julianna said "The tools provided are so helpful, especially if you are just starting to fundraise … a lot of the work is already done for you, but you can still change it however you want."
Eva and Julianna delivered some of their delicious cupcakes to staff at OMHS when they came in to present their funds from this year's sale. Eva beamed, "I am so proud of Julianna. She has always loved animals and when she came to me and asked to help the animals by selling cupcakes, of course I said yes! What started as a small bake sale has truly morphed into an annual event."
Julianna's efforts to date have raised close to $4,000 for the animals at the shelter. "We rely 100% on donations in order to provide exceptional animal care and support at the shelter, so the amazing efforts of fundraisers like Julianna makes all the difference," says OMHS Executive Director, Rick Perciante.
"With our Pawsitive Partners resources we want more animal lovers in the communities of Oakville and Milton, who may have been thinking about fundraising for the OMHS, to have a look at the easy-to-use tools we've created to make their event fun and successful," he adds.
For more information on how you can make a pawsitive difference for the Oakville & Milton Humane Society, visit www.omhs.ca/pawsitivepartners