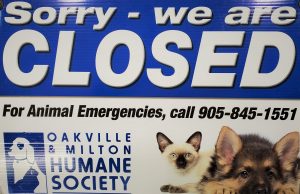 COVID-19 Update from the Oakville & Milton Humane Society
The Oakville & Milton Humane Society (OMHS) understands and shares the concerns of the community regarding the coronavirus (COVID-19). We continue to closely monitor the rapidly evolving situation and take the threat very seriously. As a result, we are taking the following preventative measures to ensure the health and safety of the animals in our care, our staff, volunteers and the community we serve.
OMHS will be closed to the public until June 15th.
The OMHS Barkin' Bin Thrift Store located at 511 Pinegrove Road, is also closed until June 9th and will not be accepting in-kind donations at this time.
The closure of the shelter will impact our ongoing operations in the following ways:
All programming and services at the shelter, or in the community, including adoptions, nail trims, pet therapy, tours, Kindness Club, PA days, cremations and events have been discontinued until June 15th. (For cremations we recommend you contact your veterinarian).
Our shelter will continue to reunite lost pets with their families and take surrenders (by appointment only).
Please note the shelter will be continuously staffed during this period to answer your phone calls and to ensure the ongoing safety and health of our animals is maintained. As well, we will continue to provide animal control services for the Town of Oakville including picking up stray animals.
If you believe an animal is sick or injured, we encourage you to call 905-845-1551 so we can dispatch an Animal Protective Services Officer to attend. Please note OMHS provides the Town of Milton with wildlife rescue services of sick and injured wildlife. For all other animal-related services in Milton please call 905-878-7252 ext. 2254.
We wish to remind you that for the safety of your pet, it's important to ensure it is wearing proper identification; has a crate and extra food or supplies on hand and that you've identified a trusted family member, friend, or pet sitter who can care for your pet if you become ill or are hospitalized.
Within our facility, OMHS has also taken these additional measures to keep the shelter a clean and healthy space for all:
A significant increase in both the frequency and level of cleaning and disinfecting throughout the shelter, using Prevail disinfectant. Prevail is exceptionally potent as a germicide and is safe for animals and humans.
An increased supply of hand sanitizer stations placed throughout the building.
The health and safety of our animals and the community continues to be our highest priority; therefore, we will regularly monitor the situation and keep you updated as we know more.
We encourage you to regularly visit www.omhs.ca and our Facebook and Twitter sites for the latest updates regarding our scheduled closure and future plans to reopen to the public. If you have any questions regarding this announcement, please email us at: shelter@omhs.ca and we would be pleased to respond to you as quickly as possible.
Thank you,
Rick Perciante
Executive Director
Oakville & Milton Humane Society