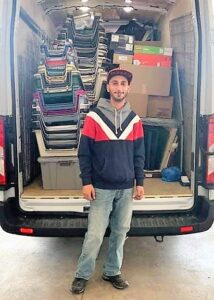 The Oakville Milton Humane Society (OMHS) does much more than just animal adoptions. For example, we actively support animal rescues who work in some of the most remote areas of Canada.
This includes our ongoing partnership with Northern Connection, a local animal rescue that works in northern Manitoba. Most recently we worked with their volunteer driver John, who successfully transported over the Thanksgiving weekend a number of homeless dogs to other rescues, including five puppies that came to our shelter to receive life-saving care. We are thrilled to report the puppies have already found loving families who will soon be taking them home!
To support the efforts of Northern Connection's "Project Warm Dog" initiative to build dog houses in northern Manitoba, OMHS has also contributed nearly 1000 kilograms of pet food by connecting with Amazon, one of our donor partners. Thanks to OMHS volunteers we were able to take the food to a transfer station so it could make the long journey to Manitoba.
Our work with Northern Connection is just one example of how OMHS actively supports rescue efforts outside of Oakville and Milton. The Society recognizes that there are many animals who are not fortunate enough to live in urban areas that have easy access to healthcare and treatment facilities. By partnering and working with other communities, groups and volunteers, OMHS is able to utilize all our expertise and relationships with veterinarians to help these animals who may otherwise not survive.
In many remote communities, access to veterinary clinics for pet care may not be available. The resulting pet overpopulation often results in free roaming dogs that are forced to endure extreme weather conditions. By partnering with rescues to bring resources to these communities and accept homeless pets, we are able to provide healthcare and find loving forever homes in our community.
Many thanks to Northern Connection and John for making the epic 40-hour round trip. We are so proud to be able to partner with them to provide the most vulnerable animals with a second chance for a better life and to support the needs of northern communities!