The Husemann's legacy runs deep in the Oakville community. The family is remembered for starting many of the local car dealerships that are still in operation today and for their avid interest in the welfare of animals. For their unwavering compassion, we honour their memory and give thanks for their ultimate gift that is now continuing to fund the charitable work that was important to them during their lifetime.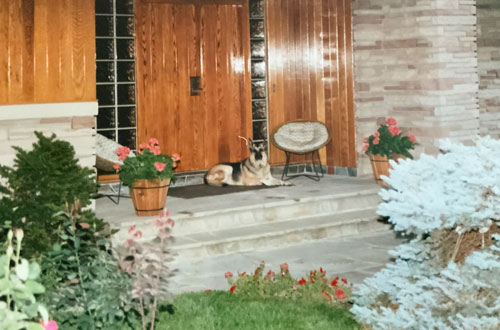 Their gift is true testament to the great lives they lived that were enriched with rescued animals
This story began in in the 1950s when Walter and Ella immigrated from Germany to Canada to start a new life. Arriving in this country with very little, they both worked hard to build a life in Oakville and constructed their own home – something they were very proud of. Sadly, in the 1970's Ella was diagnosed with cancer and passed from this terrible disease.
Walter and Inge met years later and enjoyed much happiness together, along with their animals. Walter was known for being stoic in nature and Inge intelligent and independent. Both had an extraordinary kindness and a soft spot for their beloved animals. In particular, their cats and rescued German Shepherds, Rex and Prince, who could be seen at the auto dealership greeting customers or riding along in the family's luxury cars. They were all special members of the Husemann's family. Travel was an important part of their lives; the couple would take weeks abroad discovering parts of the world. Walter is fondly remembered helping and spending time with the stray dogs he met during their travels.
Together, they built a wonderful life
By leaving a gift in your Will, you have the power to change the lives of homeless, and abused animals. Walter and Inge's compassionate gift is a beautiful tribute to their love of animals and the joy this brought them during their life. Their gift ensures there is a safe and caring place in our community for the future animals needing help.
Walter and Inge's love of animals during their life is continuing to change lives today.