Building relationships with our community of veterinarians is important to OMHS, so we are excited to announce two new clinic partners this month. These partnerships will enable us to provide needed surgeries and physical rehabilitation for animals.
When we receive animals that have been injured they are rushed to one of our community veterinary partners to receive the care they need. Broken bones top the list for one of the more common injuries from accidents involving cars. Equally important as the surgery is the follow up support to ensure the animal gains full mobility of the affected limb.
Our thanks to Dr. Tina McGrath who leads the team at Bronte Village Animal Hospital and Mobility Matters Pet Rehabilitation who can provide after surgery care for some of our animals. Recently we had a dog (Suzie) come to us that is now benefitting greatly from their services after she received hip surgery. Dr. McGrath and Kathy Zubick, RVT are certified canine rehabilitation practitioners and are providing Suzie a range of rehabilitation therapies from massage and cold laser therapy to exercise on the underwater treadmill.
With their expert help we are hopeful that Suzie will soon able to run and enjoy her mobility like any other dog her age should.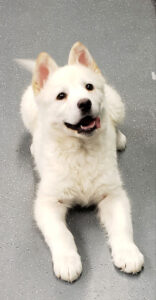 We also want to thank Dr. Janice Honda and her team of community minded veterinary professionals at Sixteen Mile Veterinary Clinic. Since opening in 2016 they have generously supported OMHS with a donation box and through sales of our pet calendar. When COVID-19 dictated that clients were not able to come inside the clinic, Dr. Honda reached out again to be of further assistance by offering to provide some spay and neuter services (including Luna pictured here), which we gratefully accepted.
We are so grateful for both our new partnerships and their commitment to helping pets live their best lives.