Every year, organizations across the globe acknowledge and celebrate National Volunteer Appreciation Week. Here at the Oakville & Milton Humane Society we celebrate our amazing volunteers throughout the year! Our volunteers are the heartbeat of our organization with an indominable will and passion to make life better for the animals.
To our dog handlers and walkers, leaders in training and education, lottery ticket sellers, foster families, wildlife drivers, cat socializers, Barkin' Bin store, office and special event volunteers, and leaders on our Board of Directors and its committees (or the roughly 25 other volunteer roles), we thank you for your passion, skills, and copious number of hours you've given to our organization and for the difference you make each day.
Every volunteer role at the OMHS makes a monumental difference in the lives of more than 3,000 animals we care for each year and we couldn't do what we do without you. For that we are eternally grateful!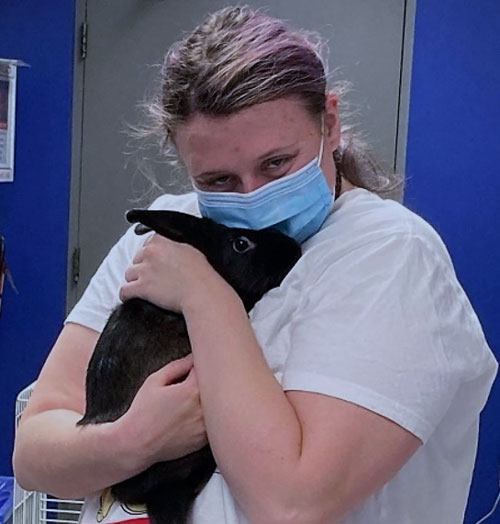 Caring for the Animals
Our animal care volunteers help with feeding, walking, socializing and providing clean spaces for animals at the OMHS. Animal care is a tough job and very physically demanding but ensures that all the animals have a clean, warm, comfortable place to call home while they wait for their new families.
We are incredibly fortunate to have a small group of veterinarians who dedicate their time to helping us make sure that we are providing the very best medical care to the animals in the care of the Society.
All of our adoptable animals will see one of these vets prior to going up for adoption. All the hard work our animal care volunteers do makes staying in a shelter a little easier for animals at the OMHS and the staff are super appreciative of the help too!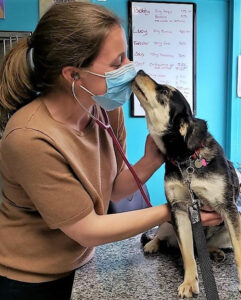 Training That Leads to a Better Life
Our dog handling team volunteer their time and special skills to help shelter dogs enjoy time outdoors while also increasing their chances of finding their forever homes. They do this by helping them work through some of the behaviors they've developed due to truly unfortunate circumstances. Our volunteers also teach them the basics so the dogs learn their names, can walk nicely on a leash and even show off some newly learned tricks! So many dogs have found their forever homes because of the skills they have demonstrated during their meet and greets that have sealed the relationship.
Our Socializers Are the Cat's Meow
Our cat socializers help reduce the stress and boredom some of our shelter cats may feel while staying at the shelter. They do this by spending their time providing enrichment to shelter cats in the form of exercise, play, visual stimulation and at times even grooming.
Our matchmaking volunteers play an important role in showcasing our shelter cats' personalities to prospective adopters which is a huge part of helping them find their forever homes. When there are no potential adopters, they spend their time socializing with the cats and help our adoption staff create those amazing profiles. These amazing volunteers keep our kitties looking and feeling their best until the right family comes along to take them home.
Driven to Help Wildlife
Our Volunteer Wildlife Drivers help us transport a wide range of orphaned or injured wildlife from the Oakville & Milton Humane Society to local wildlife rehabilitation centers. These hard-working volunteer drivers play an essential role in the facilitation of life-saving treatment for a wide variety of wildlife species, including beavers, rabbits, possums, skunks, squirrels, racoons, coyotes, ducks, swans, birds, and other animals. Without the support of this group of volunteers these animals would not have a second chance!
Remembering Marshall
Nicole and Denis have spent their lives caring for dogs and cats. They are especially grateful for the work of staff and volunteers that made it possible for them to adopt Marshall.
"Thanks to the support and training that OMHS provided us, we were able to help Marshall eventually become a confident dog and express his true nature," says Nicole, who also volunteers weekly as a cat socializer at the shelter. Marshall often visited The Glass Half Full, the business the couple founded together in 2004, and brightened the days of their clients. Sadly, Marshall passed away in 2021 from a degenerative disorder. His loss left a significant hole in their hearts, as well as their cat Guinness, also adopted from OMHS.
In honour of Marshall, Nicole and Denis made a very special gift to the animals at OMHS. Their gift will be used to fund the care of deserving animals like Marshall awaiting for their fresh start in life. "We donated because we want to make a difference in the lives of less fortunate animals. We also want to honour the memory of Marshall."
May marks Leave a Legacy month, a campaign that encourages people to consider a special gift during, or after, their lifetime to a cause that is meaningful to them. We are so grateful for Nicole and Denis's support to help make our mission possible. Their story is just one example of how many of our volunteers go above and beyond to help the OMHS by sharing their time, talent, and resources.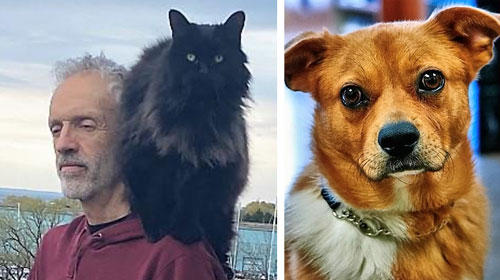 Fostering Love
Foster parents open their homes, their families and most importantly their hearts to animals in need of a comfortable, safe space to stay while waiting for their forever homes. Foster parents work actively with the staff at the OMHS to provide care for their foster pets' medical and behavioral needs.
This can include introducing their foster pets to new experiences as well as administering medication and working with foster pets to manage certain behavioral concerns. Foster parents also play an important role in the adoption process by conveying important information about their foster pets' personality including their likes and dislikes to our adoption team. This helps our adoption team set them up for greater success in their forever homes.
Keeping OMHS Purring Along
Our volunteers are a diverse group of people and many volunteer roles in the Society do not involve direct animal contact, but are vitally important. For example, we have office volunteers who generate letters or handle data entry, but we also have some very skilled roles such as website auditing, material design, photography and videography. These support roles help to ensure the organization runs smoothly and effectively so that we can support the animals and the people who care about them.
Making Our Events Special
Our special event volunteers help to promote the work we do for animals and the people who care about them. These volunteers work tirelessly to sell lottery tickets, work Bingo nights, deliver calendars, help out at community events or support a Society event such as Mission Pawsible, or our signature event, Prancing with the Stars. We also have Animal Ambassadors who come out to certain events to provide some popular animal interaction.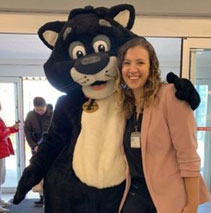 Enhancing the Well-being of Animals
Our leaders in training and education volunteers do a fantastic job of facilitating an environment where children can safely learn about animals. Our youth apprenticeship volunteers focus on practicing active empathy while working with the animals at the OMHS. This includes enabling the animals to have time out of their enclosures in an enriching environment after business hours.
Our education volunteers help make the OMHS a fun place for children and youth to develop empathy and a better understanding of how to play an active role in animal care. They provide tours, supervise youth volunteers and help the general public understand the range of services offered by the OMHS.
100,000 Meals Served
Thanks in large part to our volunteers, more than 100,000 meals were served to animals in need during the first year of the OMHS Pet Food Bank. These volunteers work tirelessly to help families in our community who have fallen on hard times keep their companions by providing food and other necessities so they can remain with their loving families. Our volunteers package food, organize pickups and make deliveries to our 11 community partners. They are actively making a difference with each meal delivered!
OMHS Blooms
Each spring our horticulture volunteer Sue Eglit transforms the OMHS into a beautiful oasis for the animals, staff and visitors to enjoy. In addition to planting, weeding, edging, pruning and elevating trees at 445 Cornwall Rd., she creates fabulous seasonal arrangements for fall, Christmas and Easter.
"My motivation for volunteering comes from my continued love of working outside, being able to see the animals and chat with the wonderful dog walkers, says Sue. "Also, the compliments I receive from OMHS staff, volunteers and visitors to the shelter has been overwhelming. This tells me that my work is making a difference and is greatly appreciated."
Every Item Sold Helps the Animals
Our Barkin' Bin Thrift Store plays a key part in supporting the animals at the OMHS. Our hardworking volunteers sort through donations, price items and display and rotate them in the store to create a welcoming environment for all who visit. They also run auctions for more valuable items to generate even more funds. Their hard work pays off with all proceeds from the OMHS Barkin' Bin going directly to help the animals. Thank you Barkin' Bin volunteers for your exceptional leadership and customer service! It's made our store a household name with a loyal customer base.
Shaping the Future of the Society
Our volunteer Board of Directors, led by our Chair, Clayton Shold, possess an interest in animal welfare and provide the strategic direction, resources, and high-level oversight for the organization to achieve its vision and mission. They play a vital role in shaping the Society's future.
We are eternally grateful for the countless hours they commit in numerous meetings and discussions each month to govern our organization. Right now, OMHS is currently seeking individuals to join our Board, and/or Committees, with experience in capital campaigns, community engagement, finance and animal welfare, who wish to use their expertise in making a difference in the Oakville and Milton communities.
If you wish to apply to serve on the Board of Directors, or on one of our committees, please send a cover letter and resume to: nominations@omhs.ca. The efforts of our leadership volunteers are a prime example of what the gift of time and talent can do!