On May 28, our Mission Pawsible: All Paws on Deck campaign prepared for take-off. With the help of our friends at VR Pro Inc., we got tails waggin' at Bronte Creek Provincial Park at our 1K Pet Walk.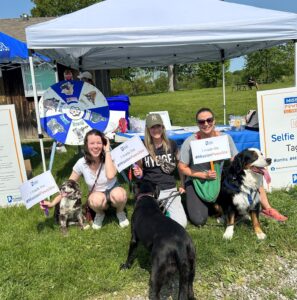 Over the next two-weeks, the "Mission" got underway with a matching gift donation from our friends at Skedaddle Humane Wildlife Control. Between 'Guess the Dog Breed' and 'Name the Kitten Contest,' virtual Dog Training session, and the in-person shelter tours, Mission Pawsible offered a variety of activities to interact with our community.
Our Mission Pawsible campaign was created to raise funds by engaging and informing the community of the over 3000 injured, abused, abandoned, neglected, or surrendered animals OMHS cares for each year. On the tail-end of our Mission Pawsible campaign, we did just that.
After OMHS staff took in three very malnourished strays that were in dire need of our care, the public outcry for the mistreatment of these dogs brought our community together to support the efforts of OMHS. With the help of a second matching gift from A1 Air Conditioning & Heating, Mission Pawsible exceeded its original goal of $25,000 – we are very excited to share that the campaign raised more than $30,000 for the animals!
We also want to thank The Oakville Pump & Patio and Cameron's Brewing Company for generously donating prizes during the campaign!
Campaigns like this are only possible because of our incredible community. Thank you!